SEPTEMBER UPDATES:

09-02-05 was Chases first day of gym class. He is taking a Mommy and Baby class at The Little Gym and loving it. He loves watching and being around other kids. He is taking the class with his NICU buddy Ethan, but today Chase only had eyes for Emma... The cute neighbor girl... Hum.. Do we have a ladies man?

09-02-05 Today we took Chase back to the doctor to get the results from the test done in the hospital last week. They came back that he has reflux - not severe, but worse than would they would like to see. They are upping his medicine dosage to help prevent any damage from the reflux. At this time there is no damage which is awesome!!! They did determine that he is milk/soy protien intolerant. They have changed him to a new formula and so far it is doing wonders!!! We have a much happier baby and this makes Mommy and Daddy much happier! While at the doctor they weighed him with a dry diaper and he is now 17 pounds 1.5 ounces.

09-13-05 to 09-18-05 Stacy and Scott took a well deserved break and went to Vancouver BC for 5 days. Stacy's Dad and Stepmom came from Atlanta and kept Chase. They all survived! I think Grandma and Grandpa were very worn out by the end of the week!!! Chase was glad to see Mommy and Daddy and Mommy and Daddy were glad to see Chase! Grandma and Grandpa were glad to see their own bed!!

Chase is really starting to move... He has mastered the commando crawl by using his upper body. He gets where ever he wants and what ever he wants.. UGH.. He does get up on his hands and knees and rock... Won't be long and he will master the well known crawl!

Boy are we in trouble!! As of 09-27-05 Chase has mastered pulling up. Yes - he goes from stomach to feet as long as he has a way to pull up - chair, pillow, toys, etc... Not only does he love to get to the standing position, but he lets go and see's how long he can stand - he is one fearless boy! He still does a commando crawl and I am wondering if he will master the traditional crawl or if he will go straight to walking...

On 09-29-05 Chase weighs in at 17 pounds 12.4 ounces. Heck his Mommy at one year only weighed 17 pounds 9 ounces.

SEPTEMBER PICTURES: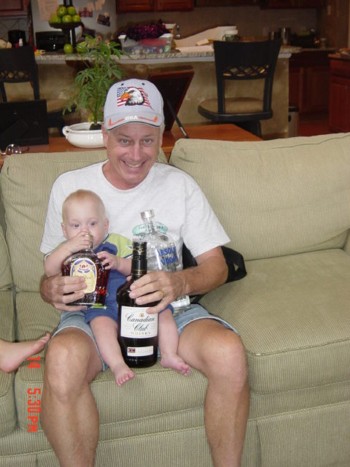 Grandpa is suppose to be watching Chase while Mommy and Daddy are in Vancouver. HUM - Who's Watching Who?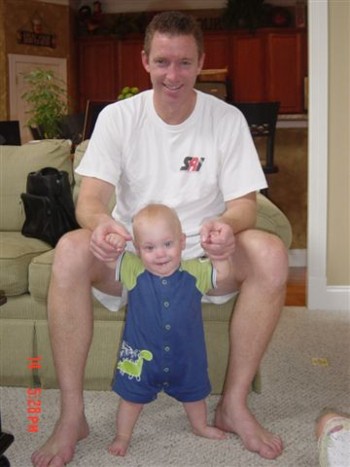 Uncle Mike and Chase hanging out.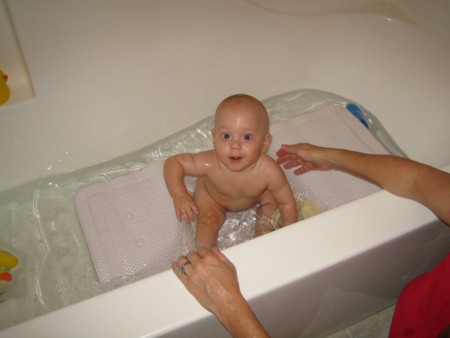 09-08-05 Chase has graduated to the big boy tub and loves it! Mommy gets as wet as Chase does!

Giggle boy! Hard to believe he use to scream his head off the entire time he was in his car seat... Boy have we come along way!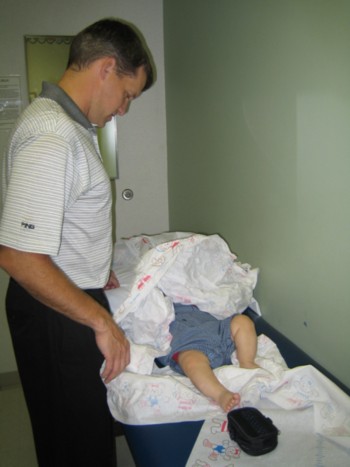 Who needs toys when you have paper on the examination table in the doctors office?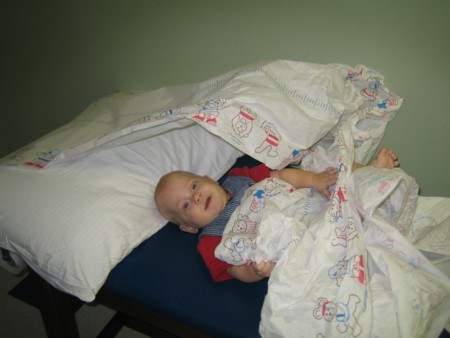 Happy in the paper!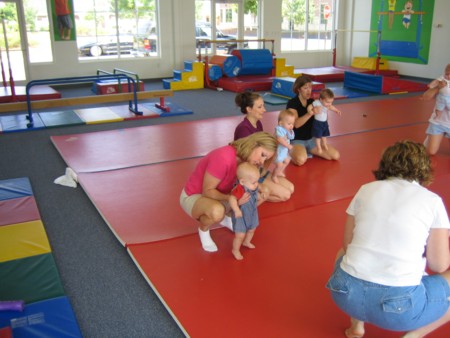 Gym class with Mommy.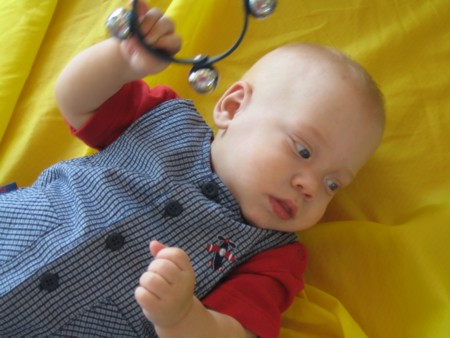 Chases favorite part of Little Gym is the bells... Well the bells and trying to kiss Emma - see he is looking her way here!