OCTOBER UPDATES:

10-16-06 until 10-19-06 Chase went to Asheville with Mommy while Daddy went to Tampa to take the CCIM final exam. He loved being with Papa, Grandma and Uncle Chad. He got to visit all of Mommy's good friends and see some of the leaves changing. He wasn't very interested in his modeling debut... The billboard advertising for Papa and Grandma's Insurance Agency. He and Mommy were glad to get home and see Daddy - who passed his test!!!!!

10-20-06 Chase went to the YMCA Halloween Carnival and had a blast. He didn't want to wear his monkey costume at first, but once he saw all the action he forgot he had it on. He loved digging in the candy, trying to play the games, seeing all the people and skateboarding with a little help from Daddy.

10-31-06 Chase went to the annual Halloween cookout at the Deans. He jumped on the trampoline, played ball, played with the kids and ate hotdogs. He would not put his costume on!!! So he was a "Monster in Training" since that is what his halloween shirt said. He then went home and helped pass out candy - we did get his costume on for one brief second but then it was back to the tshirt. Daddy did take him to a few houses before he went to bed.

OCTOBER PICTURES: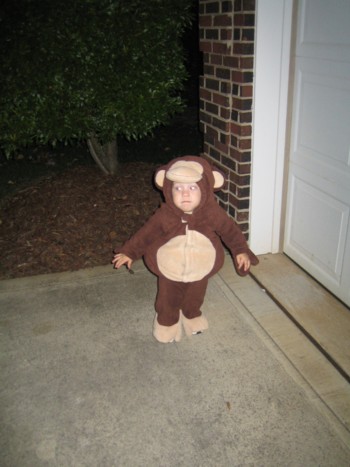 Mommy and Daddy's Halloween Monkey.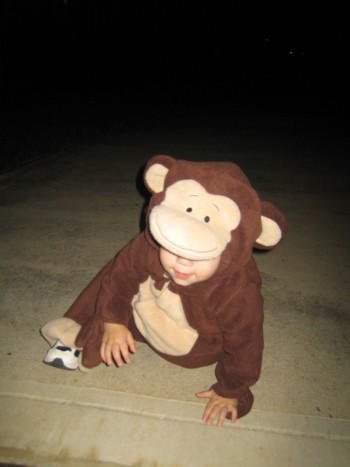 The Monkey.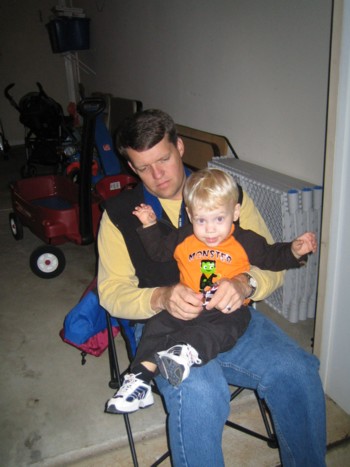 Daddy and Chase waiting to give candy to the trick-or-treaters.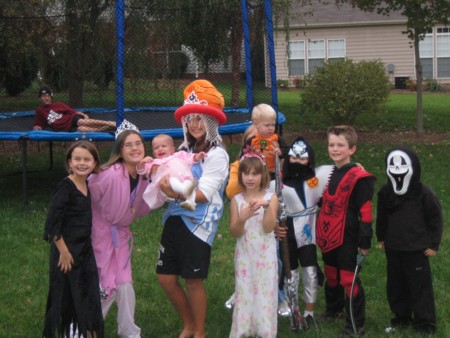 The neighborhood kids ready to trick-or-treat... Well everyone except Chase - he wouldn't put his costume on.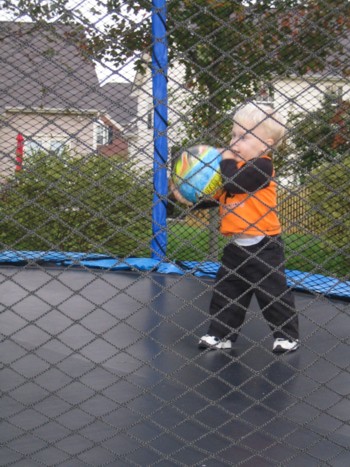 A ball and a trampoline... What more fun could a little boy ask for?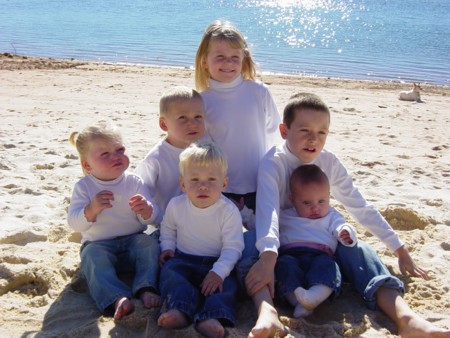 The 6 McKinney Grandkids - Jake 8 1/2, Jillian 6, Joseph 3 1/2, Chase 22 1/2 months, Jenna 21 1/2 months and Reagan 5 months.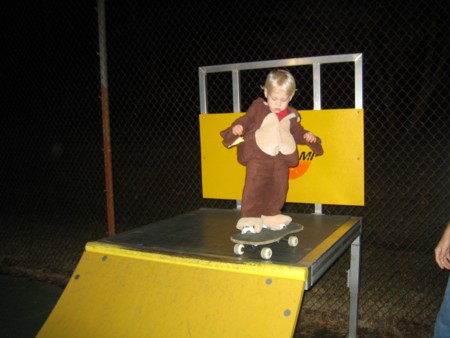 Look Mom - I am going to be a skateboard dude.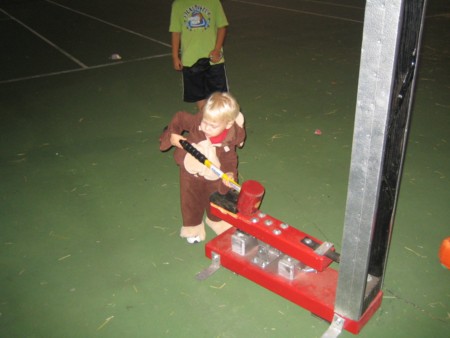 Chase was testing his muscles and trying to ring the bell. He finally rung the bell with some help from Daddy.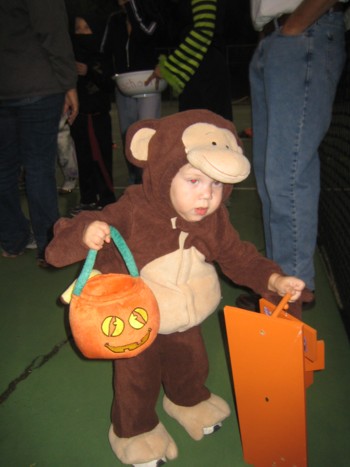 Chase hasn't figured out that you play the game not try and move the game.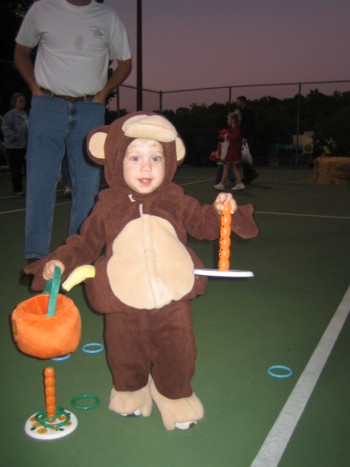 Chase playing ring toss... the only thing is he thinks you toss the poles you toss the rings on.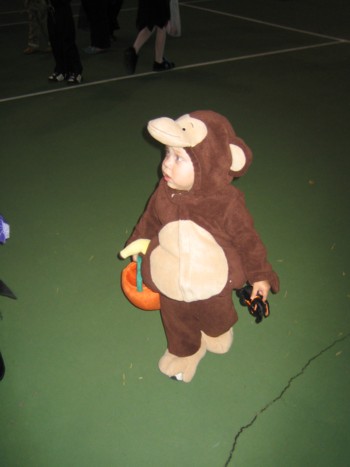 Chase the monkey... When he leaves his hood up!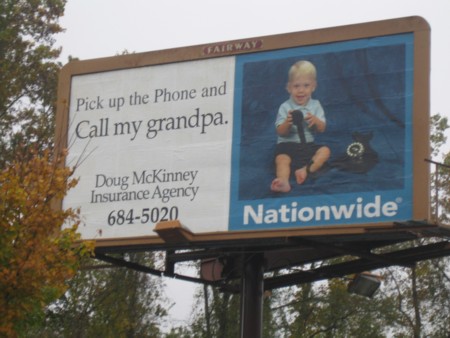 Look... I am a star - well at least in Asheville!!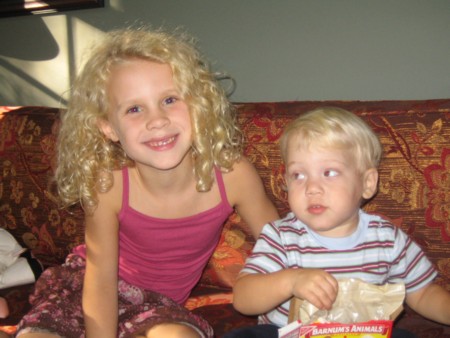 Watch it Sophia!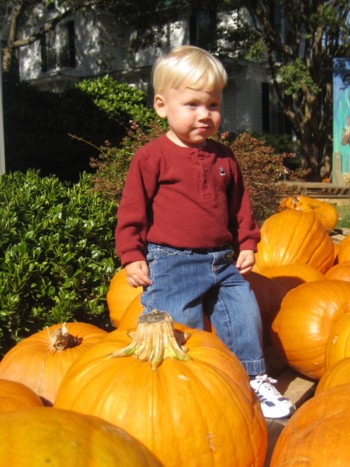 I am ready to find the perfect pumpkin.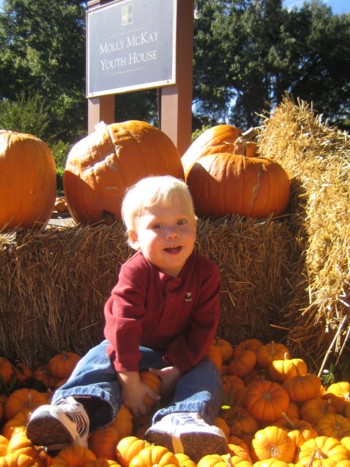 Hanging out in the pumpkins. He likes throwing them. Hope this doesn't carry over into the teenage years!!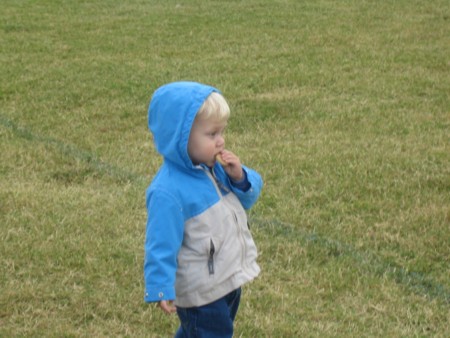 Chase watching Jillian play soccer. Is he really interested in the game or is the cookie what he is there for?