NOVEMBER UPDATES:

11-03-05 Well it is official... Chase now has two - yes 2 - teeth!

11-22-05 Chase is now up to 19 pounds 1 ounce and has cut another tooth... YEAH!! 3 teeth!

On 11-23-05 Scott and Stacy put Chase in the car and braved a 5 hour trip to spend Thanksgiving with Scott's family in Charlottesville, Virginia. Well, believe it or not we all survived... We have figured out the traveling thing... Put Chase in the car at bedtime and he will sleep the entire way!

On 11-25-05 Chase got to meet lots of Daddy's very good friends... Erik & Stefi Harrington and their children McKenna and Blake, Byron & Andie Chandler and their daughter Cailyn and Jeff Wood. He hopes he gets to spend more time with them very soon!

On 11-25-05, while in Charlottesville, Chase had an early first birthday party. It was complete with cake, hats, balloons and lots of presents. He loved getting to celebrate with GeeGee, Grandma and Aunt Meg.

On 11-26-05 Chase had his first talk with Santa. He was very intrigued with him. Daddy seems to think that Chase was asking for a Dog... But Santa told Mommy that he only promised him a stuffed one!!

NOVEMBER PICTURES: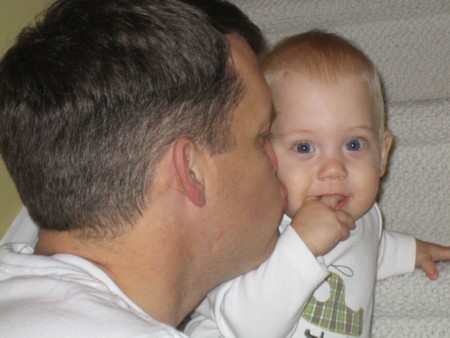 Daddy kissing on Chase.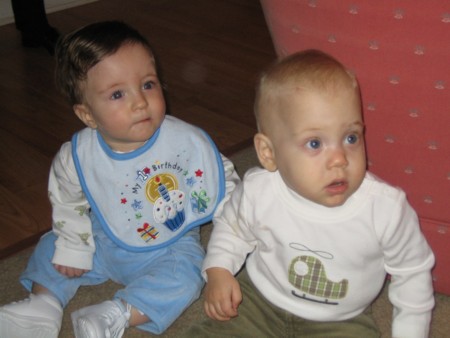 Chase and Brylan(his NICU buddy) at Brylan's First Birthday Party... Don't they look like they are having a blast?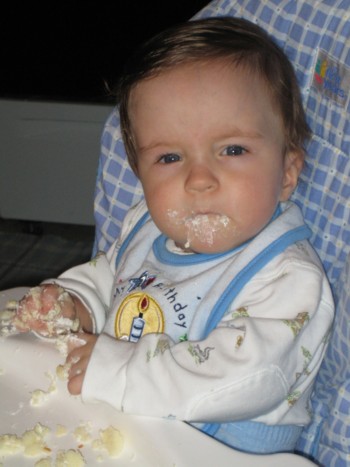 Brylan eating his cake... He looks like he will have to do bodily harm if someone trys to take it away from him!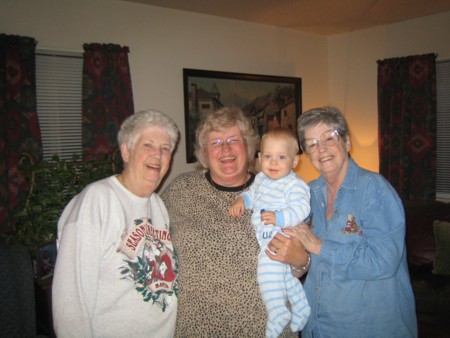 Chase visiting with GeeGee, Grandma, and Aunt Meg... He was loving his trip to VA.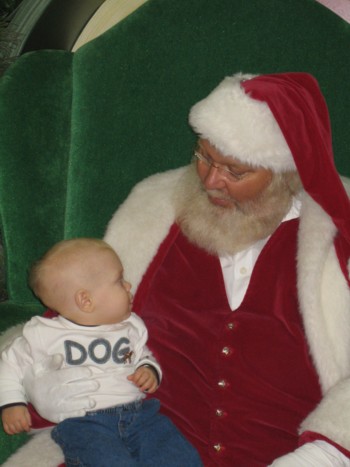 Chase went to see Santa in VA... He is having a serious talk about all the things he wants for Christmas... Daddy seems to think he wants a DOG... Santa is explaining that a stuffed DOG will be wonderful!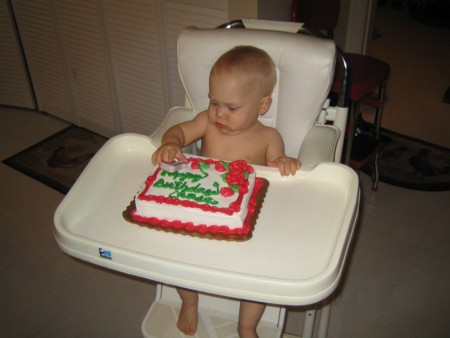 Chase trying to figure out what to do with his birthday cake... He is celebrating early in VA with his Grandmothers and Great Aunt.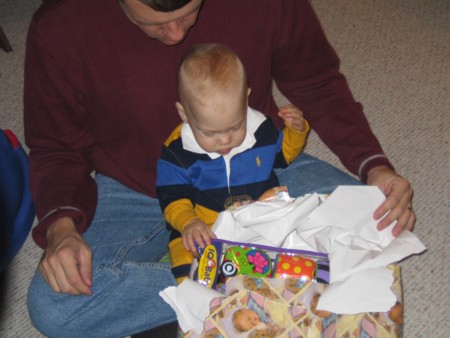 Chase opening his birthday presents while in VA.

Chase pulling McKenna's hair. We don't think he realizes this is no way to pickup the ladies!