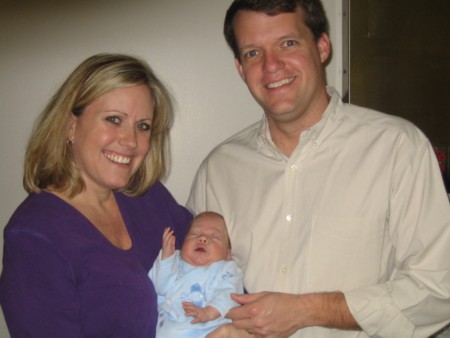 Coming HOME!! February 21, 2005

Ready to Go... Get me out of the NICU!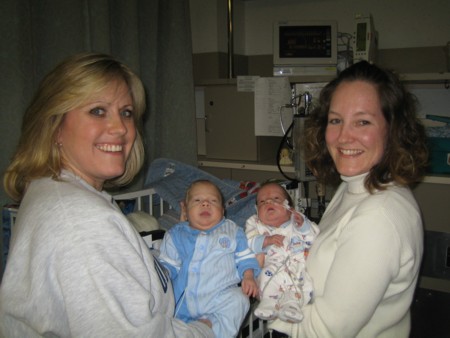 Me and my buddy Brylan in the NICU.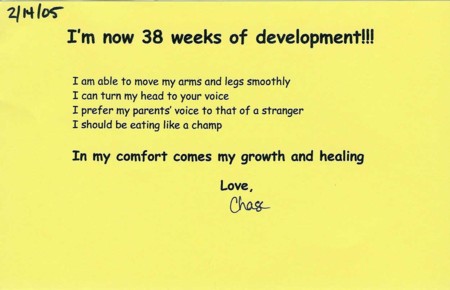 On 2/14/05 We got the best news... Chase gets to go home next Monday!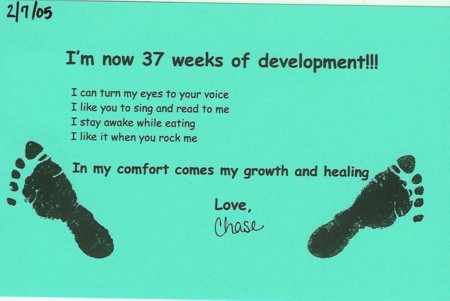 On 2-7-05 Chase hit 6 pounds 0.2 ounces.. YEAH!!

On 2-9-05 Chase had surgery to repair two hernias. He came thru like a champ. He is uncomfortable, but Tylenol is now his best friend.

On 02-10-05 Chase weighs 6 pounds 5.3 ounces and is 18 inches long. He is now off all oxygen and is breathing room air. He is also taking all feedings by mouth... He is on his way out of the NICU!!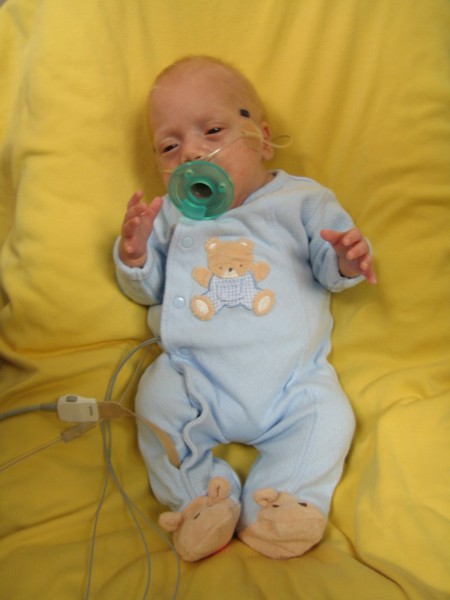 Chase on 2-10-05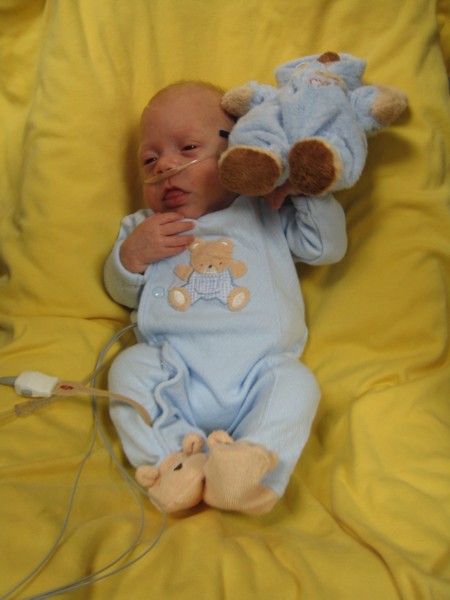 Playing toss the bear with Daddy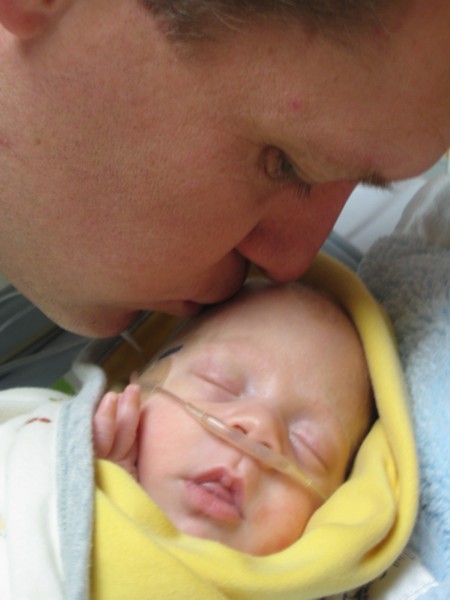 Daddy kissing Chase.

I am so HAPPY!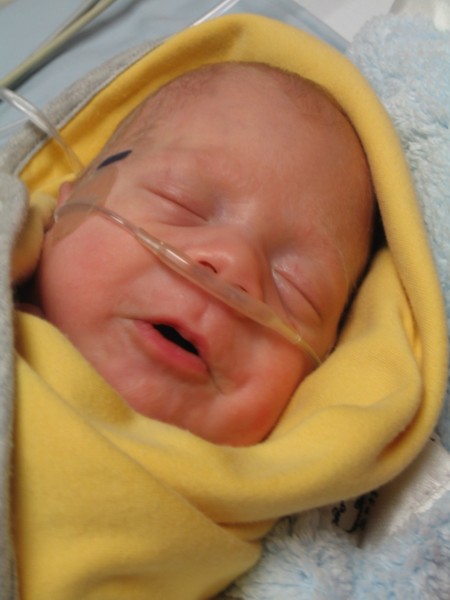 Dreaming of milk.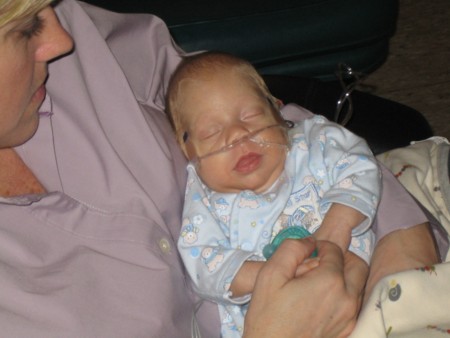 I love Mommy.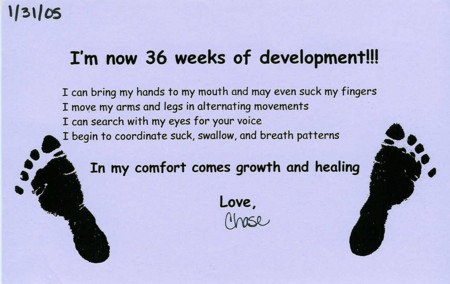 On 1-31-05 Chase weighs 5 pounds 7.7 ounces and is 17 1/4 inches long. He is growing like a weed. He is now taking every other feeding by bottle!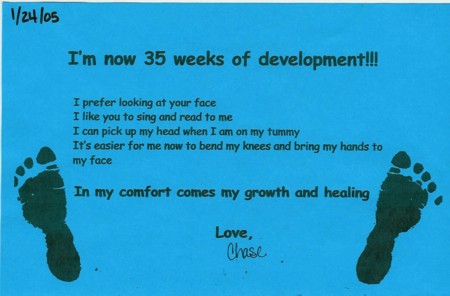 On 1-24-05 Chase weighs 4 pounds 15.3 ounces. We are very close to 5 pounds. Chase is working on bottles, but has not succeeded in taking a whole one yet. He tuckers out about 1/2 to 3/4 of the way thru.

Yeah!!! On 1-25-05 Chase weighs 5 pounds 1.1 ounces and has taken his first complete bottle... We are moving up and trying to move out of the NICU!!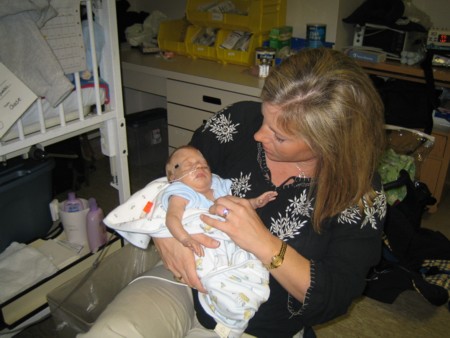 Aunt Steffany (Stacy's Sister) comes to visit 1-30-05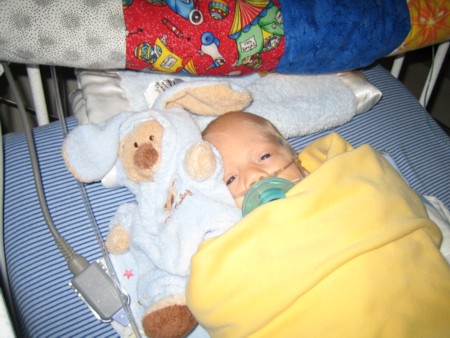 My pacifer and my stuffed animals - My Two Favorite Things!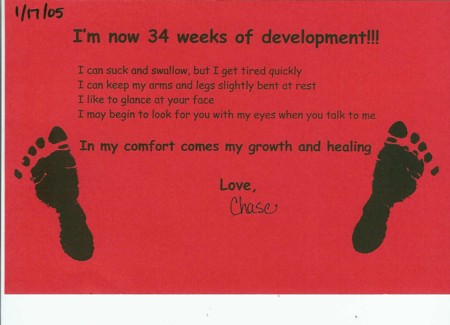 On 1-19-05 Chase was taken off VapoTherm and put on straight oxygen - next step room air.
On 1-20-05 Chase took his first bottle! He tired out after about 1/3 of it, but loved it!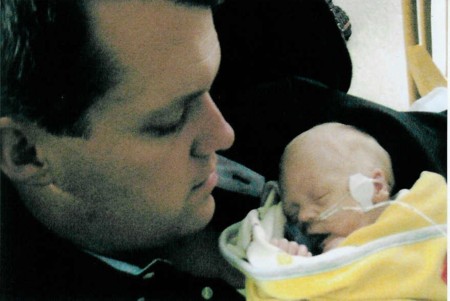 Me and My Daddy... I LOVE HIM!!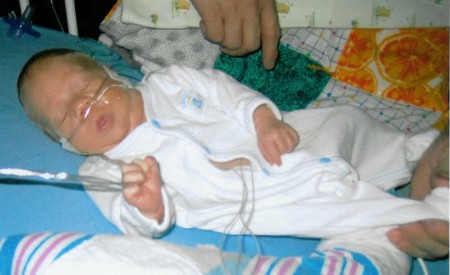 I love my "O's"!! (Chase tugging at his oxygen tube)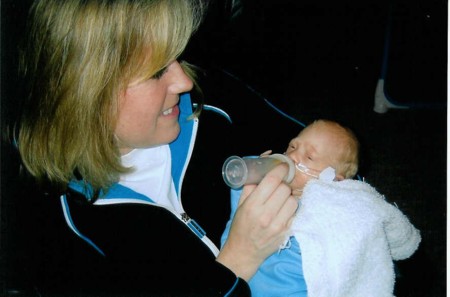 My First Bottle 1-20-05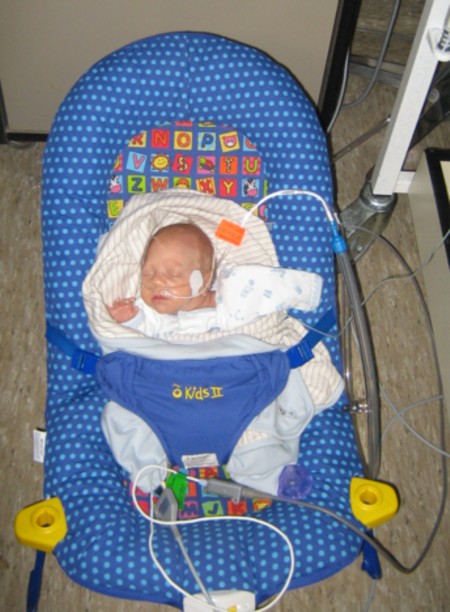 Chase lost in his bouncy seat 1-18-05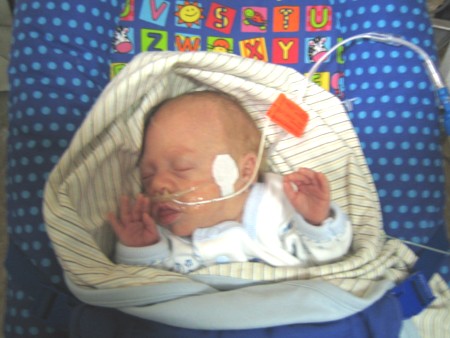 Chase passing time 1-18-05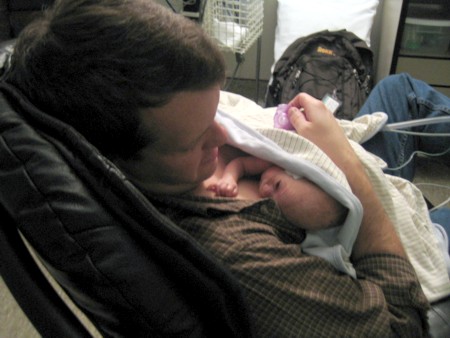 Daddy and Chase Kangarooing and both of them loving every minute of it!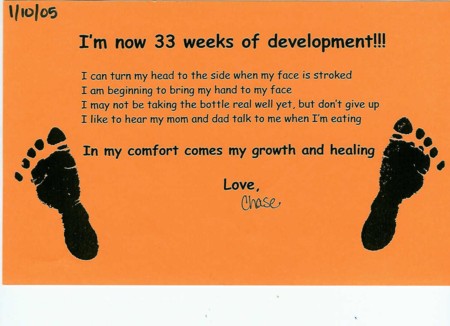 On 1-11-05 we hit our 1 month birthday and we also hit 4 pounds 0.4 ounces!
On 1-14-05 Chase was moved from the isolete to a crib... What a step!
This week we hit other milestones... Scott gives Chase a bath by himself and Scott holds Chase for the first time!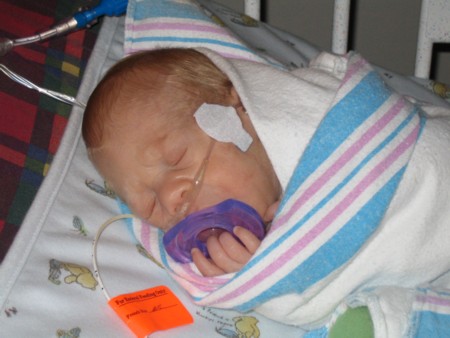 Loving the pacifier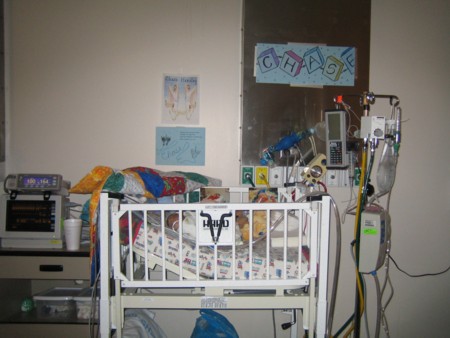 Chase's big boy crib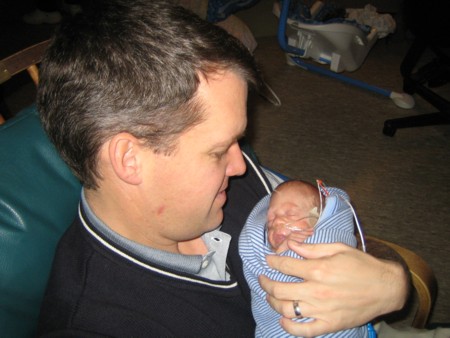 Daddy holds me for the first time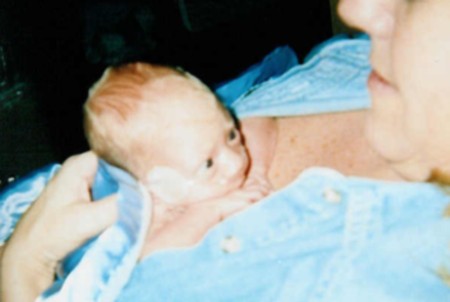 Chase having a serious conversation with Mommy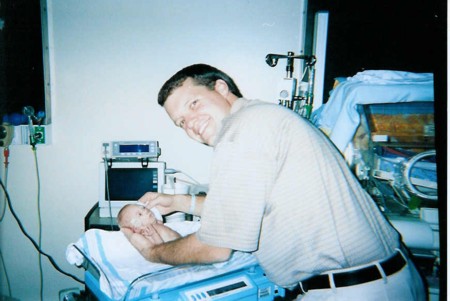 Daddy gives me a bath... His first time doing it himself!! I loved it!!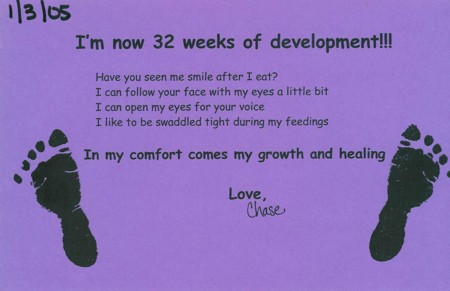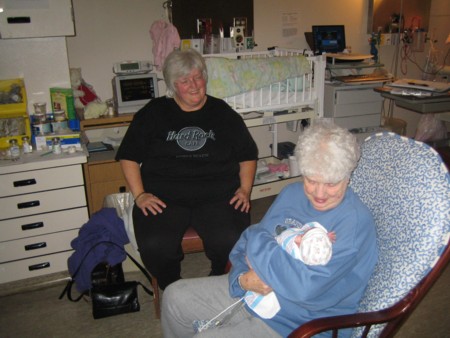 Grandma (Scott's Mom) and GeeGee (Scott's Grandmother) come to visit 1-8-05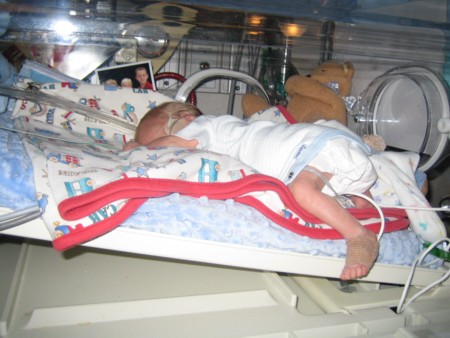 Trying to climb out of the isolette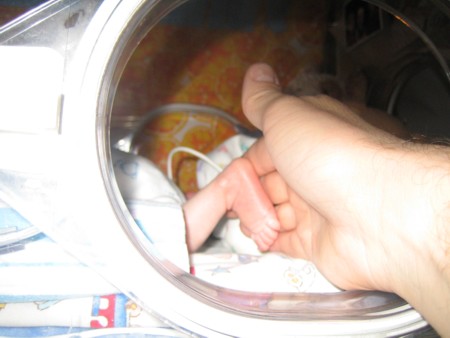 The most tiny foot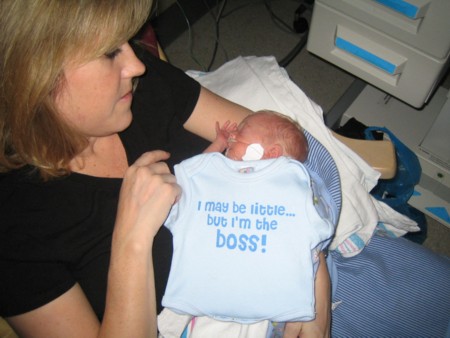 This outfit was given to Chase by one of his nurses...take a guess who thinks he is in control in NICU!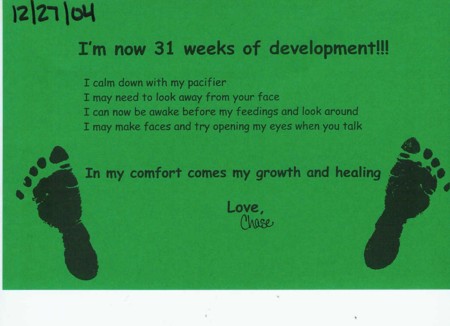 On 12-31-05 Chase was taken off the CPAP and put on VapoTherm and he is more comfortable and much happier... but I don't think near as happy as Scott and Stacy are! They rang in the New Year celebrating with Chase and the NICU nurses. Aunt Steffany and Uncle Mike stopped by for a visit. At midnight there was hats, signs, and sparkling grape juice for the entire NICU. It was lots of fun!

New Year's Day 2005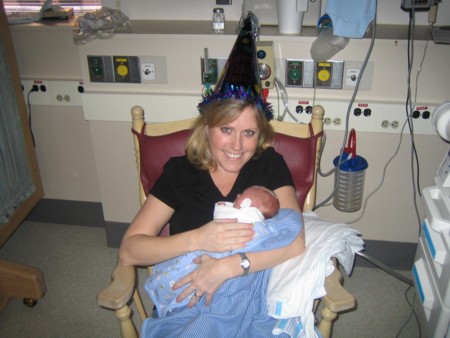 New Year's Day 2005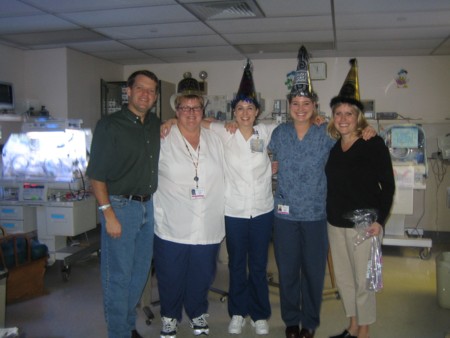 Ringing in the New Year with the NICU Nurses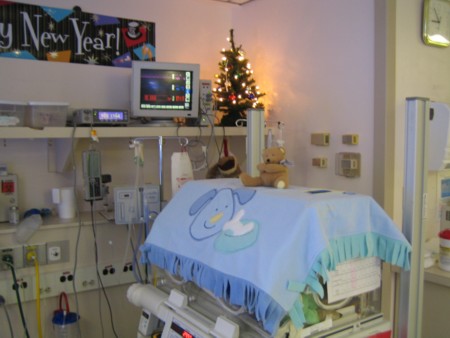 Chases's Condo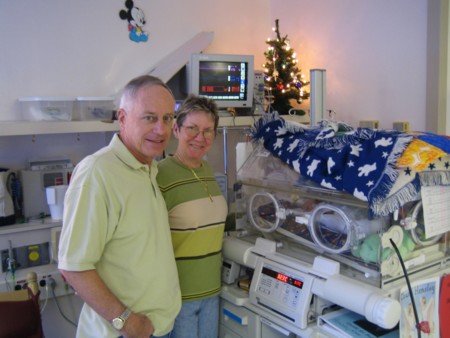 Grandma and Grandpa Seibert (Stacy's Dad and Stepmom) come to visit 12-31-04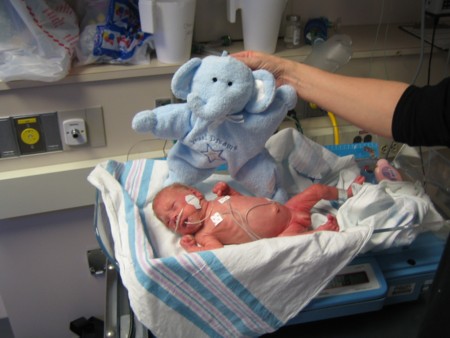 Hanging out with Grandma's Elephant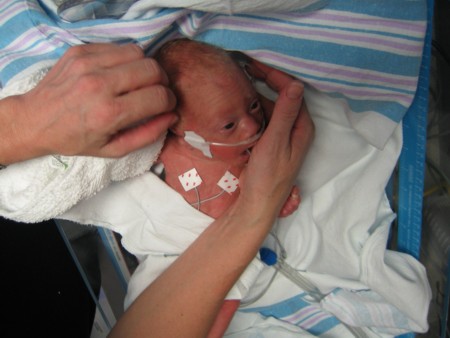 Bath Time!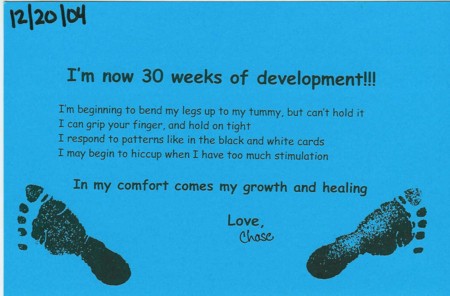 On 12-25-04 Chase is back to his birth weight of 3 pounds. What a nice Christmas present. Stacy and Scott spent Christmas with Chase in the hospital.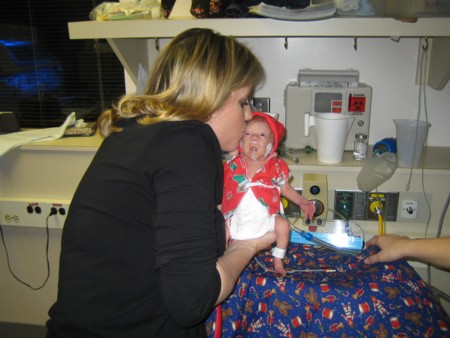 Christmas 2004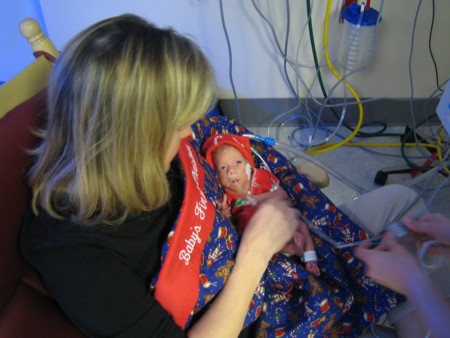 Christmas 2004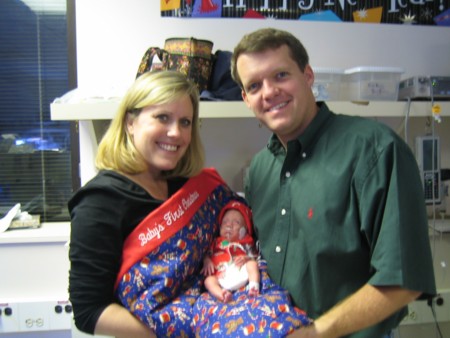 Christmas 2004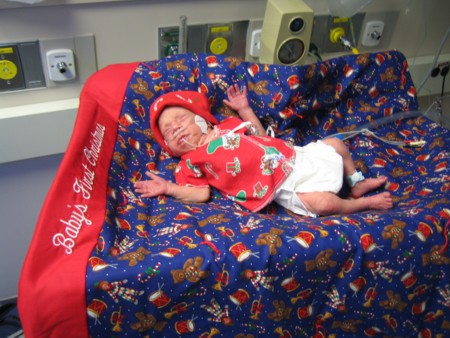 Christmas 2004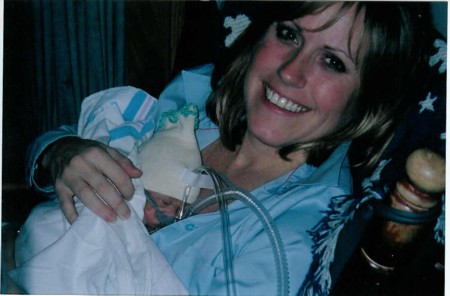 Chase on CPAP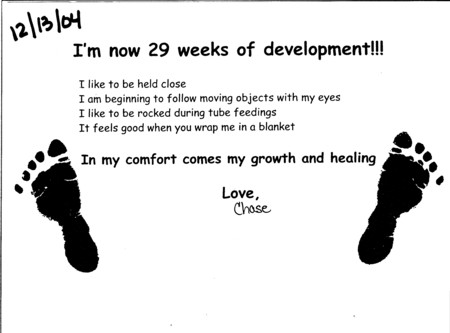 On 12-13-04 Chase weighs 2 pounds 13.9 ounces. He has lost a little like all babies do after birth. Chase has been put under the Bilirubin lights to help him with his jaundice.
On 12-15-04 Scott gets a wonderful birthday present - Chase was removed from the vent and put on CPAP. This allows Chase to breathe on his own, but helps him with a continuous force of oxygen being blown into his nose - he hates it!
On 12-16-05 Stacy gets an early birthday present - She gets to hold Chase for the very first time! She holds him Kangaroo style - skin to skin - and both of them thrive from it!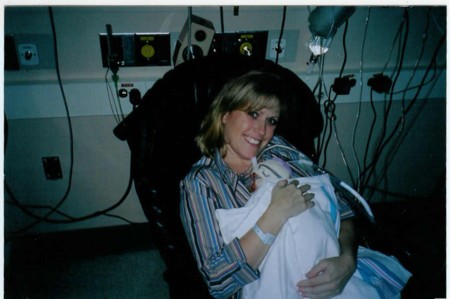 Mommy Holds Me for the FIRST time 12-16-04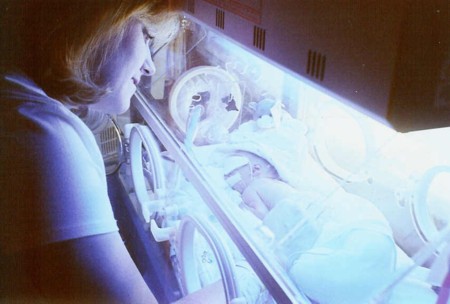 Mom & Chase 12-15-04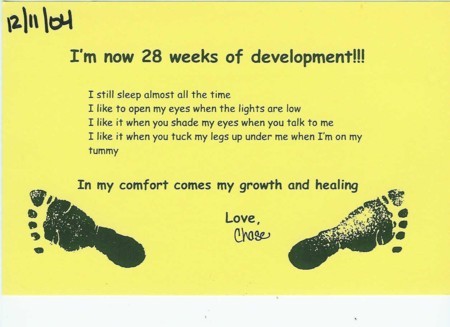 Chase was born on December 11, 2004 at 9:01pm weighing 3 pounds and was 14 1/2 inches. He was born at 28 weeks 5 days. His due date was February 28, 2005. He tried to come on November 11, 2004 after Stacy's water broke. Stacy spent 30 days in the hospital keeping him in womb as long as possible. He was born by cesarean and Aunt Steffany and Grandma and Papa McKinney were there to visit shortly after.
After Chase was born he was put on a ventilator to help him breathe.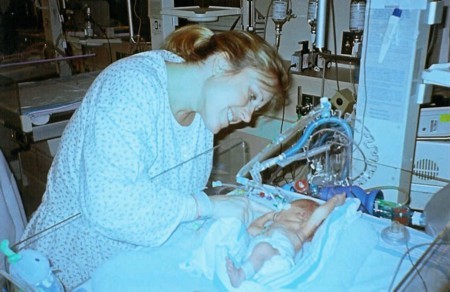 Mom & Chase 12-12-04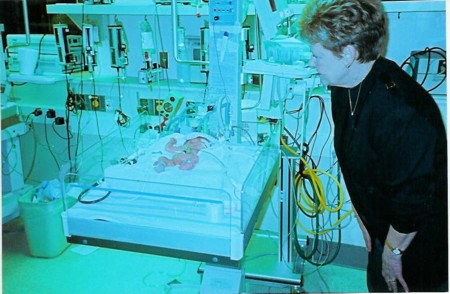 Grandma McKinney (Stacy's Mom) & Chase 12-11-04