MAY UPDATES:

5-3-08 Today was the annual Presbyterian NICU Reunion Picnic. Chase and Mommy went to the hospital before the picnic to see some of their favorite nurses. Then it was off to the picnic to see old friends, slide on the slide, ride the train, play with the cow and eat a great lunch. It is wonderful to see how all the "miracles" of the NICU are growing up into little people.

5-6-08 Tonight DUMC Preschool had their annual pizza party and art show. Chase was so proud to show off all his class projects and his blue ribbon art work.

5-8-08 Chase took Mommy to their first Mother/Son Dance. The local library held a dance and they enjoyed playing, eating cookies, making crafts and dancing the night away.

5-16-08 Today was the year end picnic for Chase's class. Due to it being a little damp outside, we stretched out our blankets in the room. We had lots of fun seeing how much the kids have grown and were a little sad to think it was all going to end soon. Chase LOVES school!!!

5-17-08 until 5-18-08 The Hensleys joined the Sheilds in the North Carolina Mountains for a weekend away. We hiked Linville Falls and hiked the Shields property on Saturday - and yes Chase walked 95% of it. On Sunday we went to Grandfather Mountain to hike and see the bears. Chase, Kate and Jack LOVED feeding the bears. We all enjoyed hiking across the swinging bridge that is 1 mile high. Chase can't wait to go hiking again!!

5-21-08 Today was Chase's last day of his first year of preschool. He loved preschool, his teachers, and all his friends. I hope he likes camp as much as he loved school.

5-22-08 Chase and Mommy went to Joesph's Graduation from preschool. Wow hard to believe he will be in kindergarten in the fall.

5-23-08 until 5-26-08 We spent Memorial Day Weekend at the lake house. Chase loved the party on Friday and the family olympics on Saturday at Turkey Ridge Park. He loved the cookout at the pool, but most of all he loved the beach and lake!!! Having his cousins and the Brasser's there was the best!

5-27-08 Today was Chase's last swim lesson. Wow has he become the little fish in just 5 short months. He will jump in - without help - and swim back to the side. He seems pretty fearless - watch out Mommy and Daddy!

5-28-08 Chase spent the morning with his friends from preschool. We had a Lunch Bunch Picnic with all of his class and his friends from other classes. Unfortunately the weather did not cooperate and the picnic was held inside on the family room floor.

5-28-08 We want to welcom Ryland James Donley to the family. Chase is so glad to have another cousin, especially a boy, to play with!!

MAY PICTURES: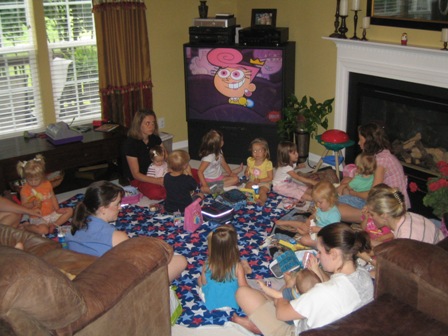 Lunch Bunch picnic in the family room - Thanks Mother Nature!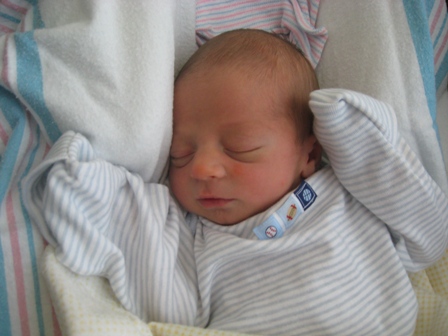 5-28-08 Ryland James Donley.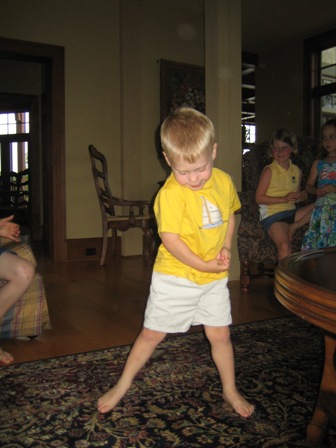 Chase dancing in the McKinney Lake House Memorial Day American Idol.
Needless to say he takes after his Mom and Dad and didn't get the ticket to Hollywood.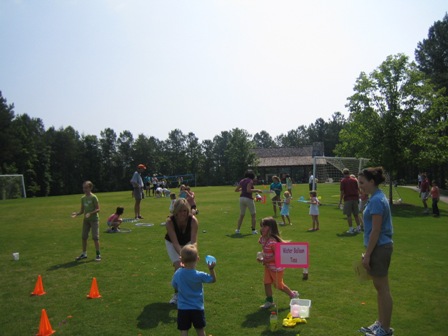 Chase loved the water balloon toss. Especially when it popped all over Mom!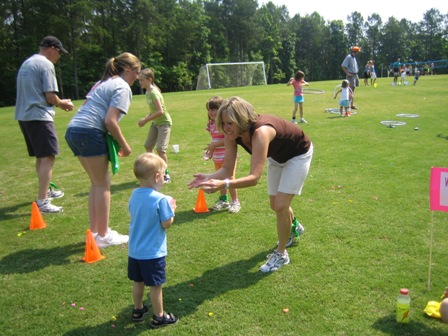 Mommy and Chase entered the balloon toss. They didn't win, but they had fun.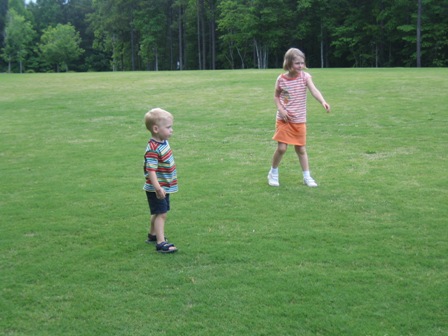 Jillian - I can kick it further than you!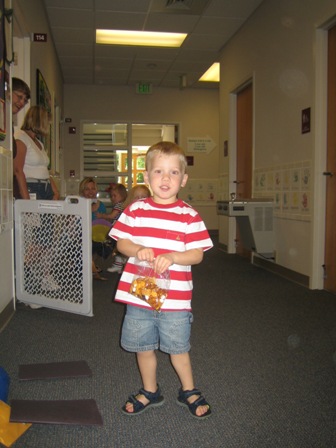 I don't think I quite "get it" - that is get that today is the last day of school.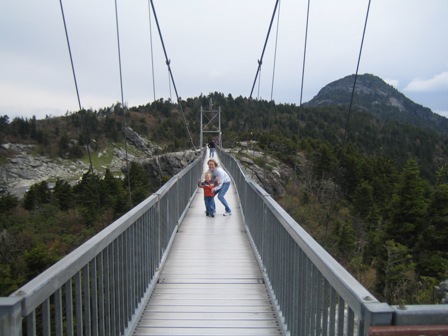 Mommy we are sooo high up here on Grandfather Mountain.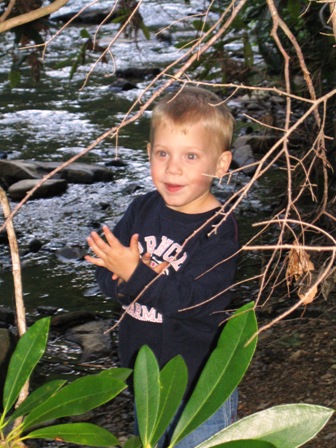 Ooops... You found me hiding in the bushes.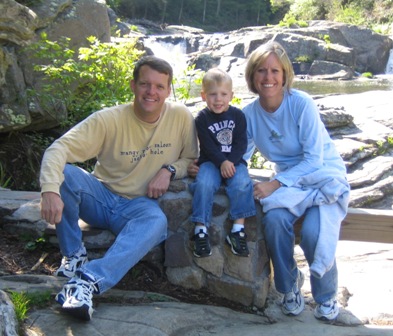 The Hensleys at the Linville Falls.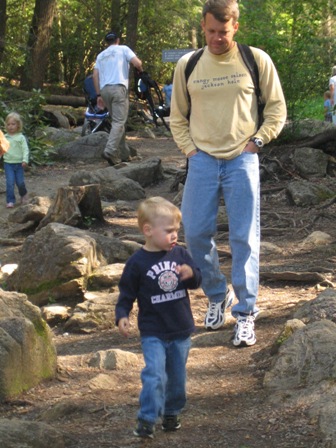 Come on Dad... I hear the falls!!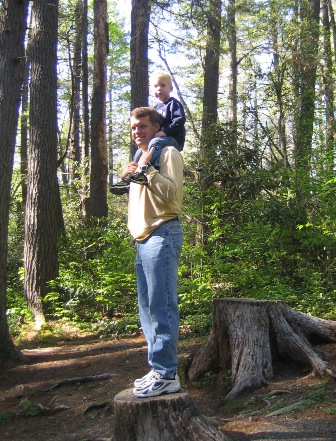 MOM - look how tall we are!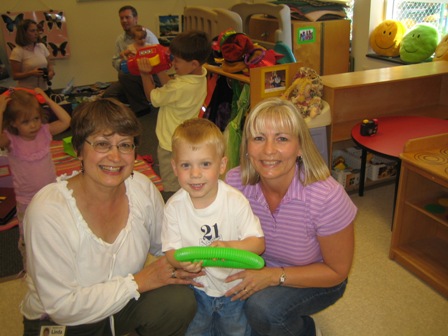 Chase with his favorite teachers, Ms. Linda & Ms. Eileen, at the year end picnic.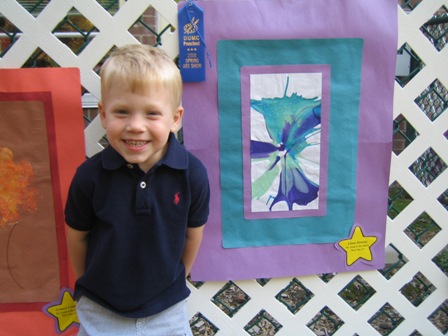 Chase at preschool with his award winning art project.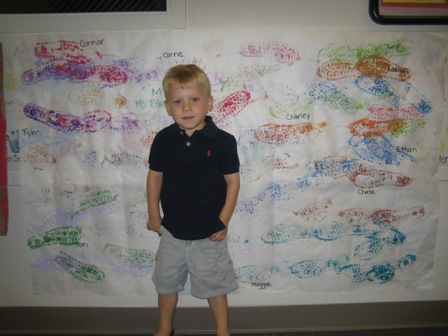 The class footprint art project for the preschool art show. Chase is very proud of all his work.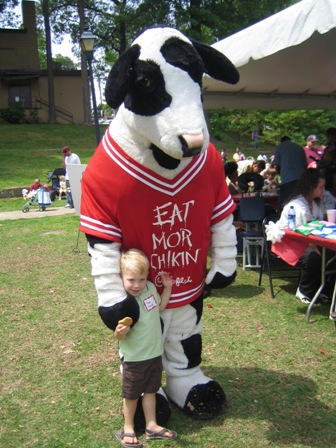 Chase seems to find the "COW" no matter where he goes.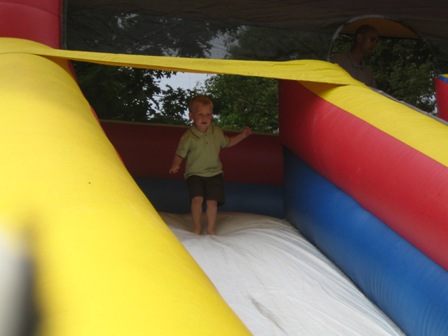 Loving the NICU picnic - this is probably his 10th time down the slide.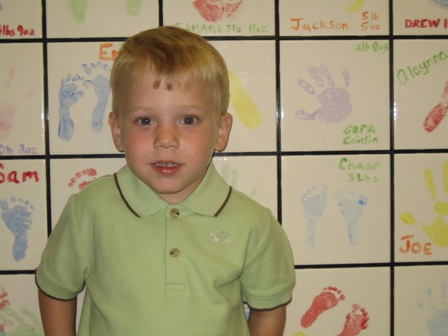 Chase in front of his NICU foot prints. If you compare to last year - he has grown so tall!!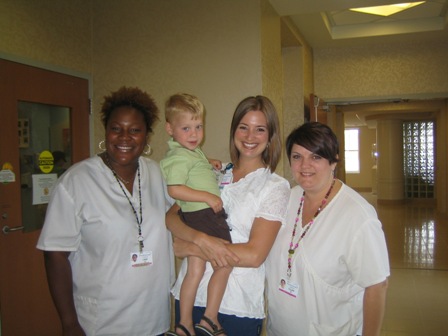 Chase visiting some of his favorite NICU nurses.