MARCH UPDATES:

Chase's New Words: PaPa

03-10-06 Well Chase is officially walking at least 95% of the time. The only time he crawls is if he falls down he goes to the closet thing or person to pull back up on - he still can't go from sitting to standing - or he crawls when he wants to get somewhere REALLY fast. It is a slow and sometimes unsteady walk, but he is so proud of himself.

03-11-06 Chase's favorite place is outside, and with the incredible weather we have been having he is spending lots of time outside. Today he was playing in the grass with the neighbors dog Jake. He actually tried to ride Jake once, but fell off. Jake was such the trooper, he just laid there and let Chase climb, poke, pet and love on him.

03-21-06 Well it is offical! Chase is walking now and pushing himself up from a sitting postion. He no longer needs the aid of a couch, wall or person to stand. And he is getting very very fast and much more stable. The best thing is Czesa has taught him to come down the steps safely!! He is so proud of himself.

03-28-06 Well today Chase had his last appointment with the GI specialist... YEAH - one less doctor to see. They say he is looking great and as far as we can tell has out grown his reflux. He weighs 21 pounds 8 ounces and is 30 inches tall... WOW ... He is getting soooo big. He is now blowing kisses - it is sooo cute. He has gone from walking to running. He is unstable and has taken a few headers into furniture... Daddy has nicknamed him knot head. He definately takes after his mother - the graceful one!!

03-30-06 Chase is headed to the beach for the first time. He is going to Charleston to hang out with the Nelsons and the Coxs. Mommy is running the Cooper River Bridge 10K Run and Daddy is hanging with Chase since he twisted his ankle. Chase can't wait to see the sand and surf!! (Ankle update: 4-7 Daddy went to the doctor to find out he actually broke his ankle... UGH!)

MARCH PICTURES: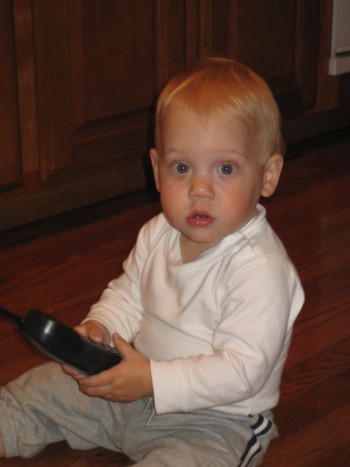 Chase calling Daddy at work.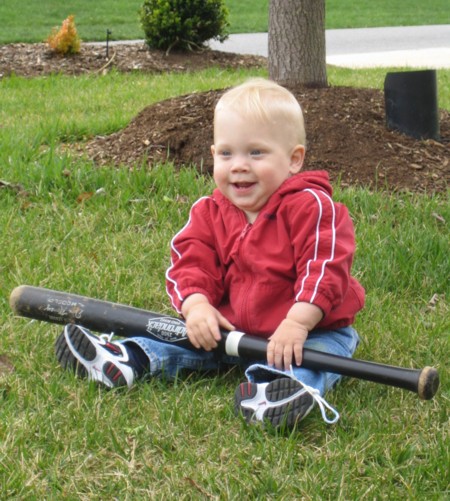 Chase is ready to play ball. To bad the bat is bigger than he is!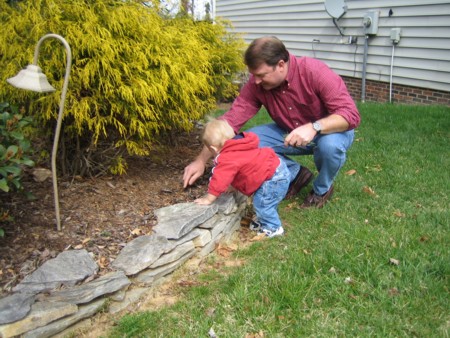 Chase helping Jim(our next door neighbor)pull weeds. Chase was playing in the dirt more than pulling weeds.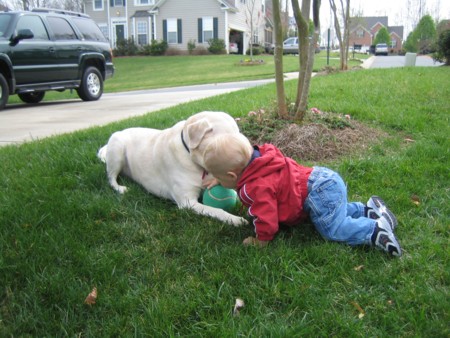 Chase playing ball with Jake... Jake is a wonderful dog! He is patient and kind to let Chase climb on him, pet him and play ball with him.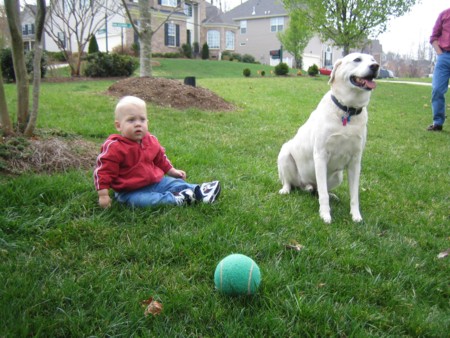 Chase and the neighbors dog Jake.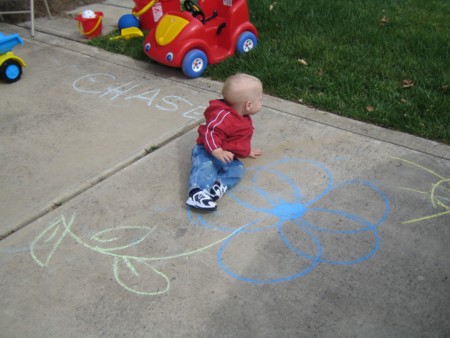 Chase playing on the driveway... He LOVES to be outside!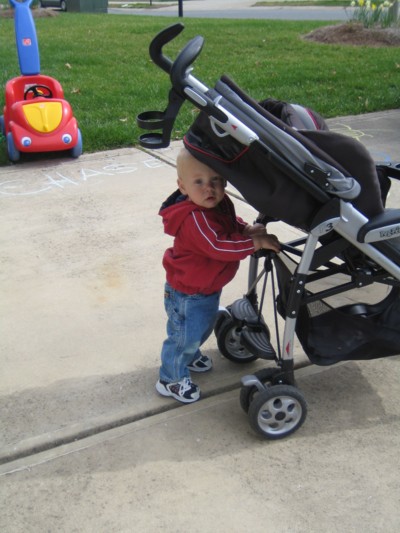 Pushing the stroller - instead of riding in stroller... Makes trips to the store lots of fun!

Chase is walking tall. He very rarely crawls - much prefers walking to even riding in the stroller! UGH!!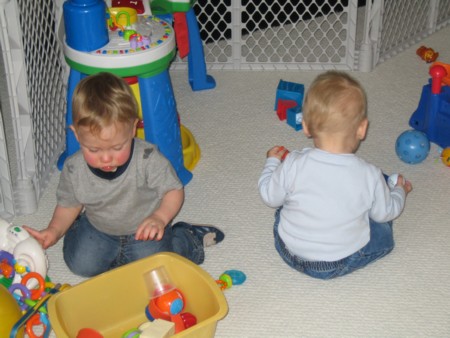 Chase playing with his buddy Ethan... Well Sorta... They kinda play around each other, not with each other. Every once in a while Ethan will go over and give Chase a big hug!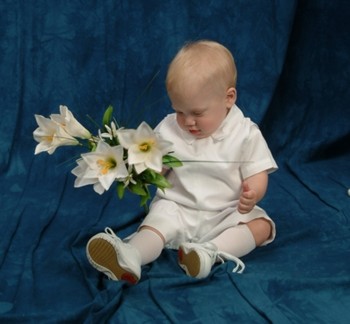 Is he not soooo sweet!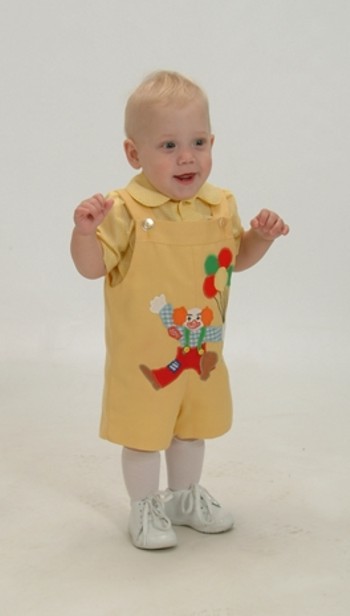 Standing so tall and so cute. He is wearing the same outfit his Uncle Chad wore 22 years ago.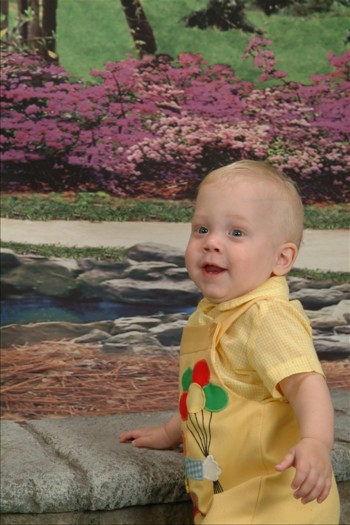 Hanging out at the rock.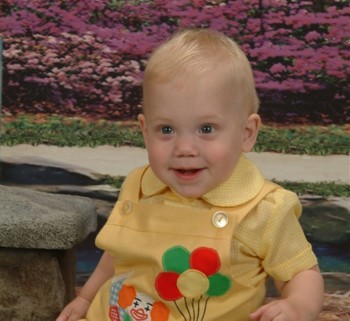 Ready for Springtime!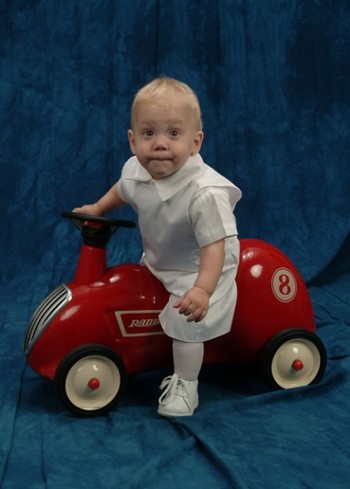 Chase and the little red car (He is trying to be Junior in the Red #8). He was having a hard time reaching the ground to make it go.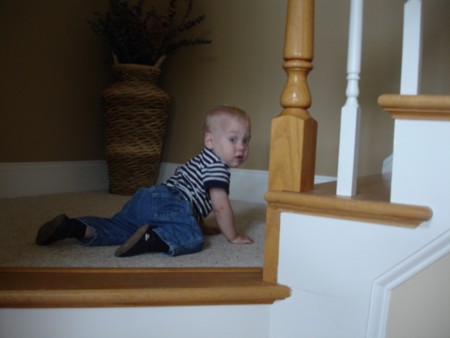 UGH... Mom, can't you keep up? I am heading up the next flight... Are you coming?