JUNE UPDATES:

06-03-06 Chase went with his cousins and Grandma and Papa to the YMCA lake party. He loved watching the skiers and playing with Monkey Joe.

06-11-06 Chase started swim lessons today. He is doing Water Babies with Mommy at the YMCA. He is fearless and loves the swimming, playing and singing.

06-12-06 Chase had his 18 month check up and weighs 23 pounds 14 ounces.

06-15-06 Scotts family came to visit. Chase loved spending time with GeeGee(Scotts Grandmother), Granny(Scotts Mom) and Great Aunt Meg. He took Granny and Meg to his swimming lessons and showed off the entire time. He went to the fountains at Birkdale and was the star of the show for the evening. He LOVES the water and loves the fountains. He would stand on top of where the water would shoot out and wait for it to hit him in the face. Then he would run and laugh and do it again. He enjoyed his time with them and can't wait until he gets to see them again.

06-18-06 While Scotts family was here we went to have family portraits made. It was a lot of fun and we got some great pictures of the entire family!! Four generations together and celebrating. Chase was all smiles. He becomes the big ham when a camera is aimed at him. He stops, poses, and smiles.

06-24-06 Mommy and Chase went to run their first race together - the University City 5K. Mommy had never pushed Chase in a race (actually she has only pushed Chase running 1 time) and they did very well. They won their divison - The Female Baby Jogger - and finished the race in 28 minutes 3 seconds. Chase didn't like waiting in the crowd for the start, so they had to pace and were one of the last ones to cross the start line. He did well for about 2.8 miles and then he was ready to be done. He tried to get out of the stroller once, but Mommy sang to him and kept reminding him that as soon as they were done he got Bob Evans pancakes. That seemed to do the trick!! Look out Charlotte... The Hensley Baby Jogger Team is here.

06-26-06 to 06-30-06 Chase went to Asheville to stay with Grandma and Papa McKinney while Scott and Stacy went to the Atlantis in the Bahamas and enjoyed a few days in the sun. While he was there he stopped all bottles and slept through the night - every night. HUM - Mommy will send Chase back to Grandma and Papa when it is potty training time... They seem to work miracles!! He loved the sandbox and the pool and spent one day with his friends Sophia and Parker Nelson... He was having such a good time he wasn't even excited to see Mommy and Daddy when they got home.

JUNE PICTURES: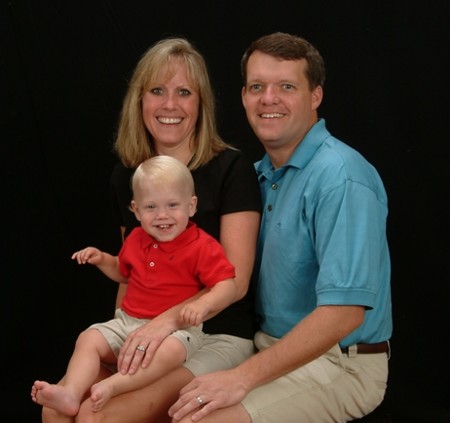 The Offical Hensley Family Portrait 06-18-06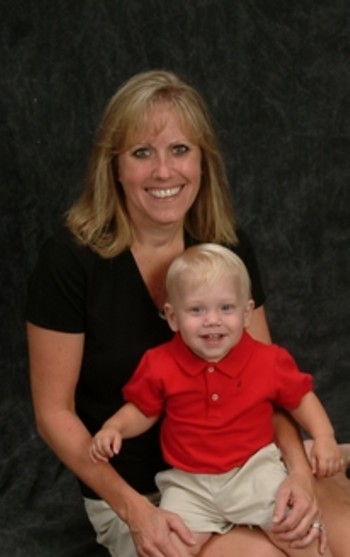 Mommy and Chase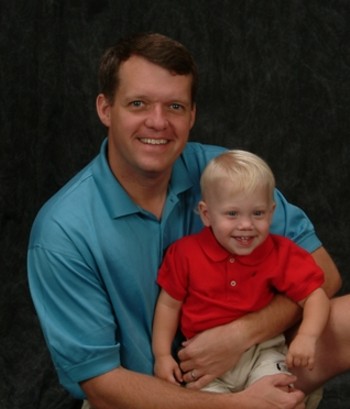 Daddy and Chase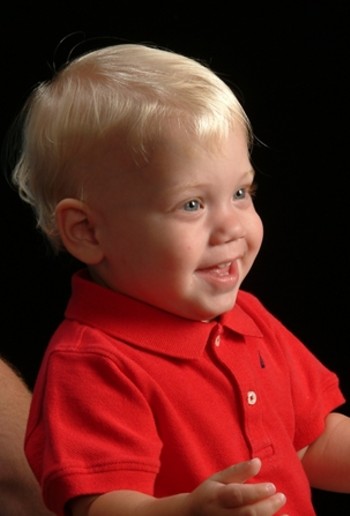 Chase at 18 months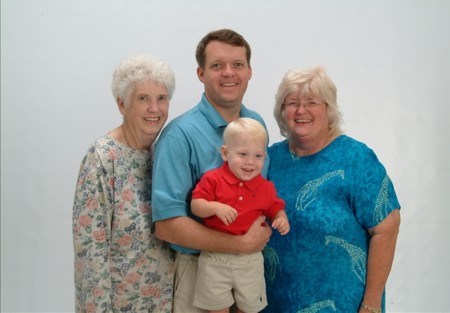 Four Generations of Hensleys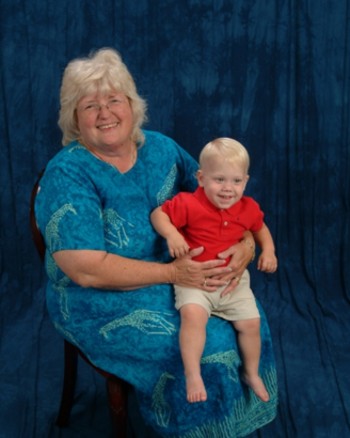 Granny(Scott's Mom) and Chase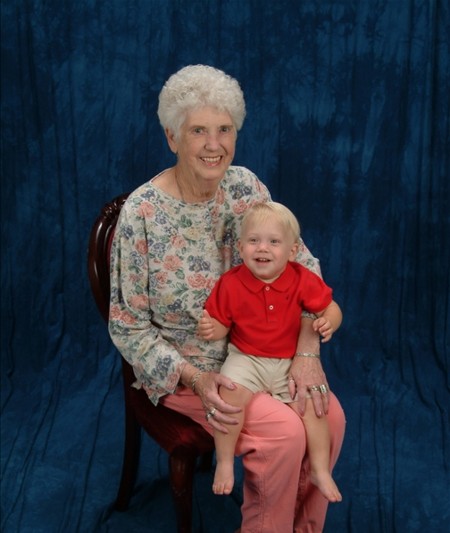 GeeGee(Scott's Grandmother) and Chase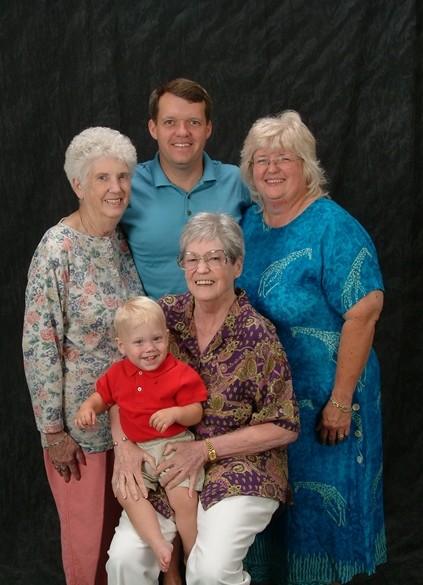 The Hensleys... Barbara(Scott's Mom), Virginia(Scott's Grandmother), Meg(Scotts Great Aunt), Scott and Chase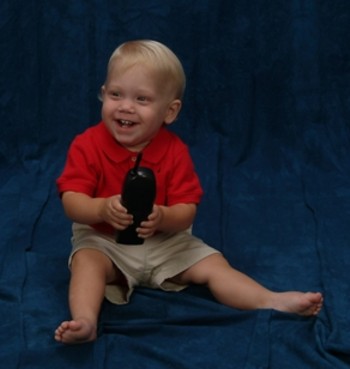 Chase playing with the phone. This and the remote.. Who needs toys??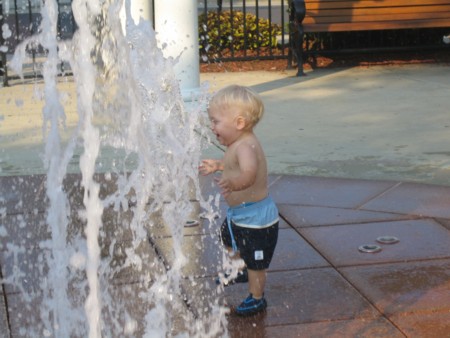 One of Chases favorite places... The Fountains at Birkdale.

Waiting to be splashed in the face and love it!!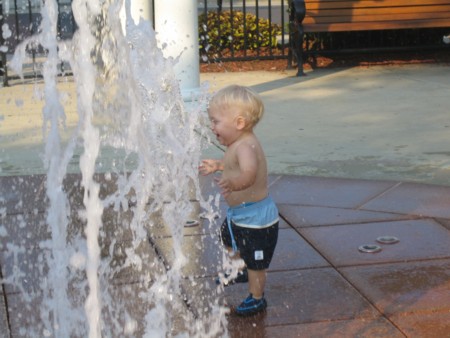 Playing in the fountains at Birkdale.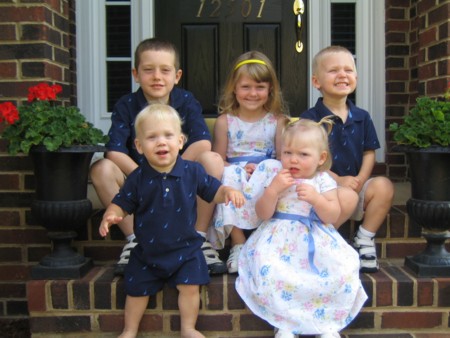 The Whole Clan. Jake 8 years, Jillian 5 1/2 years, Joseph 3 years, Jenna 17 months, and Chase 18 months.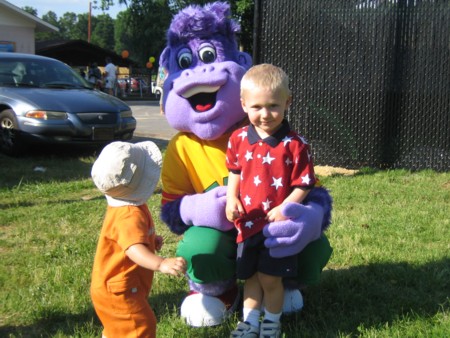 Joseph and Chase hanging out with Monkey Joe and the YMCA lake party.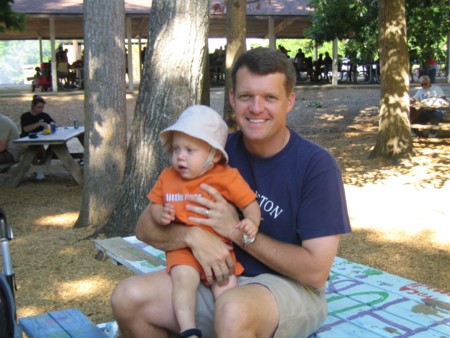 Daddy and Chase at the YMCA lake party.