JULY UPDATES:

On 07-01-05 Chase headed to Grandma and Grandpa McKinney's lake house. He was helping throw them a surprise 25th Wedding Anniversary party. Chase did well on the trip down to South Carolina - but it was down hill after that. Chase is not the world traveler at this time! We enjoyed the party and Grandma and Grandpa were surprised, but Chase did not make it to the fireworks... We headed back to Charlotte a day early where Chase could get some sleep and Mommy and Daddy could get some peace!

Chase is really starting to roll now... Boy are we in trouble once he gets mobile!!

On 07-06-05 Chase got his first taste of real food.. As real as rice cereal is.. He made funny faces and did not take it well.. Oh well, we will keep trying!

On 07-08-05 Chase now weighs 15 pounds 1 ounce.

On 07-14-05 Chase and Mommy took a road trip to Asheville while Daddy played golf in Blacksburg, VA. Chase did a little better on this trip - a little better than the last, but he just does not sleep well if he is out of his element. Chase got to meet all the neat people Mommy works with and spend some time with Grandma and Grandpa McKinney. Chase also enjoyed spending time with The Brittons, The Nelsons, The Coxs, Margie Matthews and Holly Smith... He can't wait until he is big enough to play with all the kids in the pool.

07-20-05 Chase has now become a pig... He loves squash and tonight got his first taste of applesauce. He ate 1/2 a jar of both... Now we need to start sneaking back in that rice cereal that he hates!

On 07-21-05 Chase and Mommy went to the Presbyterian Hospital open house for the new NICU. It was beautiful. They did a great job of making it very patient and family friendly. They have a wall across from the nurses station with foot and hand prints of "graduates" of the NICU. Chase is proud to have his foot prints on the wall that states "Miracles Begin Here!" And Stacy and Scott believe that miracles do begin here and have Chase to prove it... They also have the wonderful staff of the NICU to thank!

On 07-22-05 Brylan - Chase's buddy from the NICU and his mommy came to visit. It is so wonderful to see how big the boys are getting and how well they are developing. It proves that miracles DO begin in the Presby NICU!

JULY PICTURES: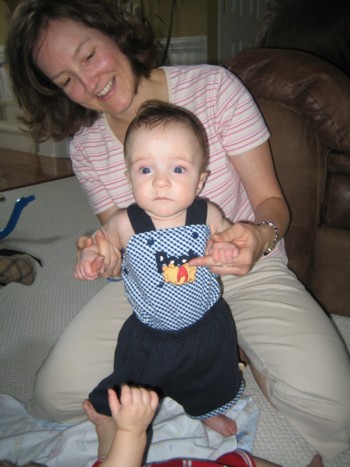 Sheryl and Brylan Johnson come to play 07-22-05.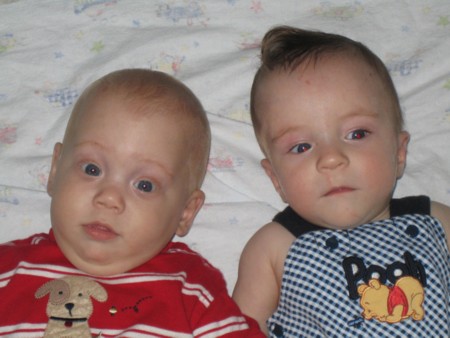 Chase and his NICU buddy Brylan... Boy are they both getting so big! Brylan's mom, Sheryl, and I think they look like Lenny and Squigy from Laverne and Shirley... Do you see the resemblence?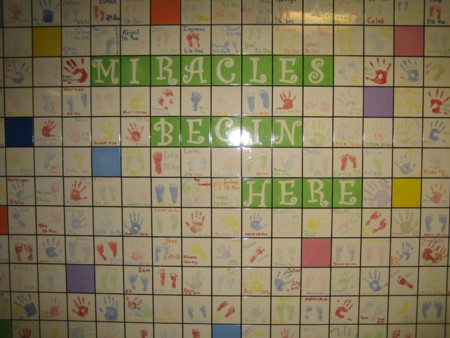 "Miracles Begin Here" The wall in the new NICU at Presbyterian Hospital. Chase has his foot prints proudly displayed here for years to come. We feel that Miracles do begin here... Chase is proof of that!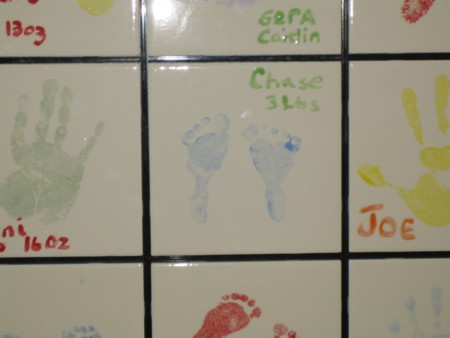 Chase's footprints on the "Miracles Begin Here" wall.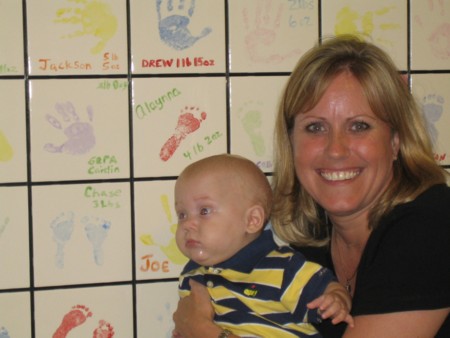 Chase and Mommy next to his foot prints on the "Miracles Begin Here" wall.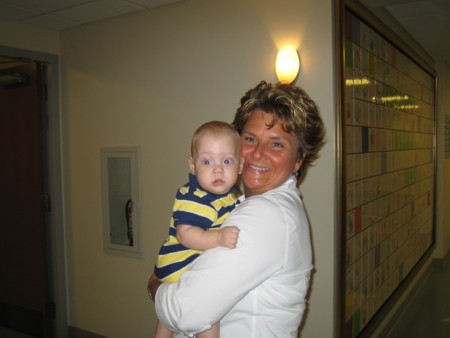 Chase loving on Tammy while visiting the new NICU.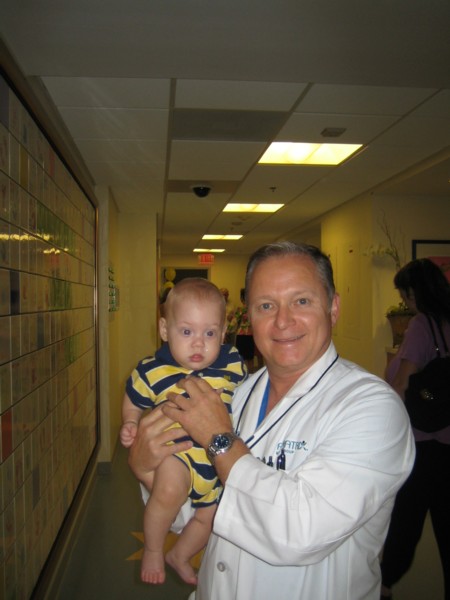 Chase visits with Dr. Brady - his doctor from the NICU.

Hanging out at Grandma McKinney's pool with Christine and Sophia Nelson.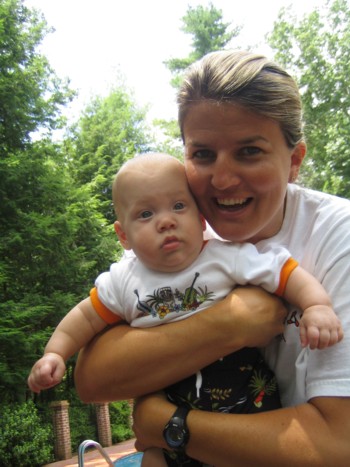 Spending time with Crazy Debbie Cox (Stacy's Good Friend). She kept making crazy noises and faces at me...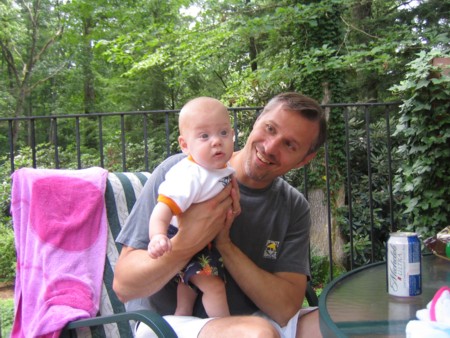 I got to meet Jonathan Nelson... The Pork is cool! I can't wait to go camping with him and Parker!

Grami Seibert came to visit. She makes me laugh.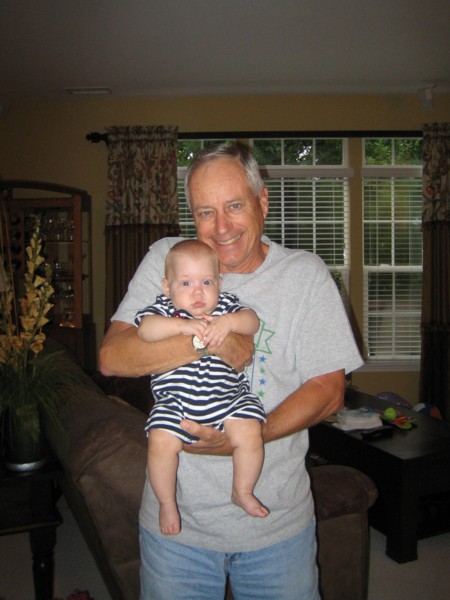 Hanging out with Grandpa Seibert.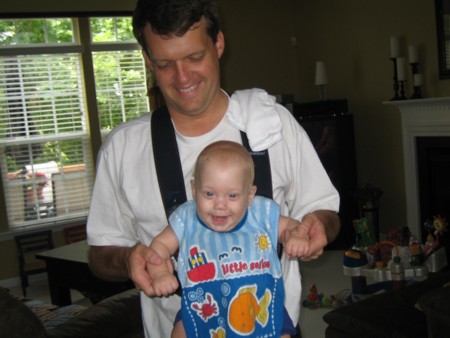 Dancing with Daddy to Dave Matthews... At least it was keeping me from my nightly fretting!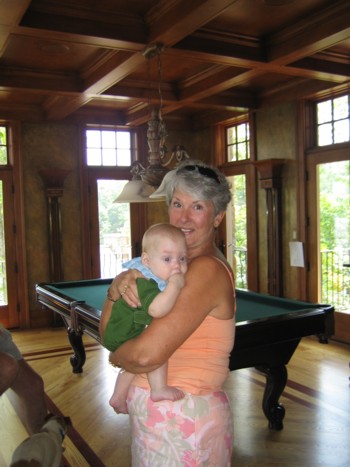 I got to meet my Aunt Nancy!