DECEMBER UPDATES:

12-01-05 Chase is now 19 pounds 2 ounces... He is pushing 20 pounds. Hard to believe that almost one year ago he was born at 3 pounds! God has definately blessed us!

12-11-05 Well today is the BIG day... Chase turns 1. He had a party with lots and lots of friends and family!!! He loved every minute of the total chaos. He got lots of wonderful presents and loved the cake and ice cream.

12-18-05 Today we traveled to Greenville, South Carolina to Great Grandma McKinney's house to celebrate Christmas with the McKinney Family. Chase did well in the car - since we put him in at nap time and he sleeps over half the way - we are trying to be smart about this travel thing. He enjoyed seeing everyone and playing with his cousins. He got some very nice gifts that he will enjoy playing with and making lots of noice

12-24-05 We got wind of a true Christmas Blessing. Our friends Greg and Ann have been trying to have or adopt a baby for quite sometime. With much dismay, their luck was not with them lately. But at 1pm today the adoption agency came to their home and brought them the best Christmas present ANYONE could ask for. A beautiful baby boy - Gabriel Lynn Hepler. He was born on 12/15/05 weighing 7 pounds. He is a happy healthy baby and the sparkle in both Greg and Ann's eyes!!! All of us are very very happy for them and Chase can't wait until they can run and play together!

12-25-05 Well today is Chase's first Christmas at home and we all are loving it. He doesn't quit understand the present thing, but is loving the paper and boxes. He got a wonderful sled, a hokies chair, Charlie the Catapillar, books, cd's, a doctors kit, money, and numerous other wonderful things. He definately made out well. The other really neat thing was Chase took his first steps this morning. Papa and Grandma McKinney came to visit and he let go and took 2 steps to Papa... We all were very excited!! We guess it won't be long before he is off and running.

DECEMBER PICTURES: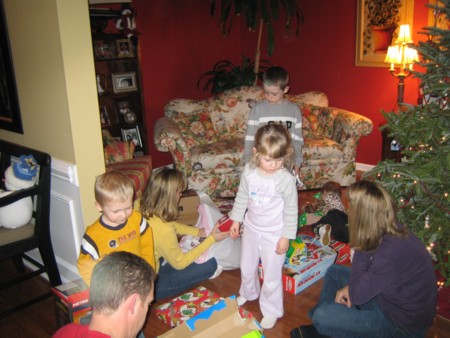 The Hensleys and The Ryans opening gifts Christmas afternoon.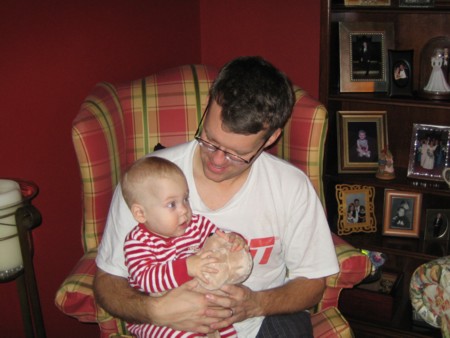 Chase and Daddy on Christmas morning discussing all the wonderful presents they both got!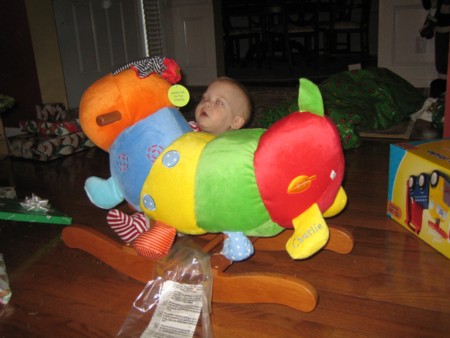 Chase with Charlie the Catapillar.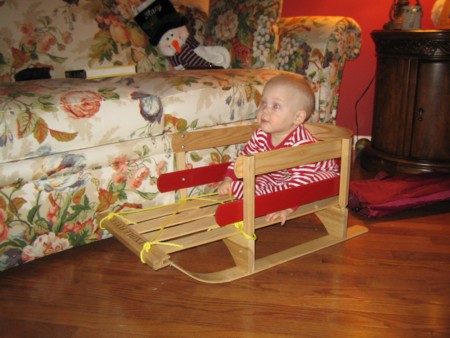 Chase sitting in his new sled ready to go... Too bad no snow yet! But when we get some snow Chase will be sledding in style!!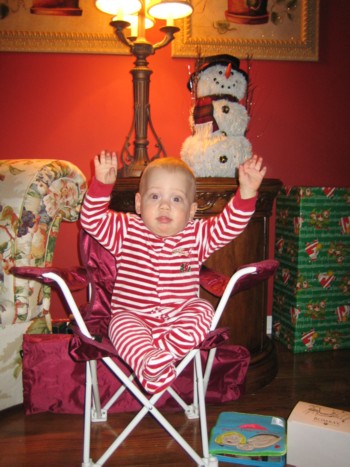 Chase showing "how big" he is sitting in his new Hokies chair that Santa brought him.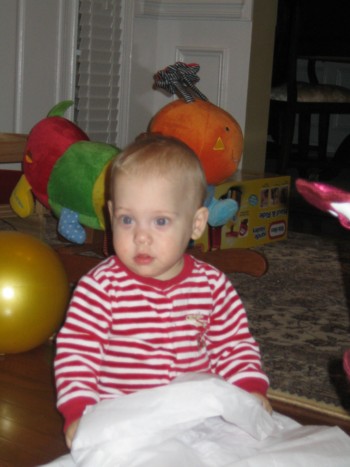 Chase playing with the paper. He seemed to enjoy it more than playing with the toys.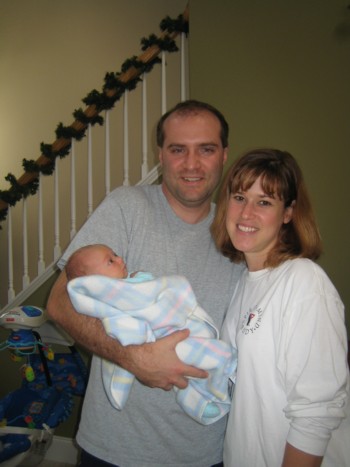 Gabriel Hepler was born 12/15/05 and joined the Hepler Family 12/24/05 - a true Christmas Blessing for Greg & Ann!!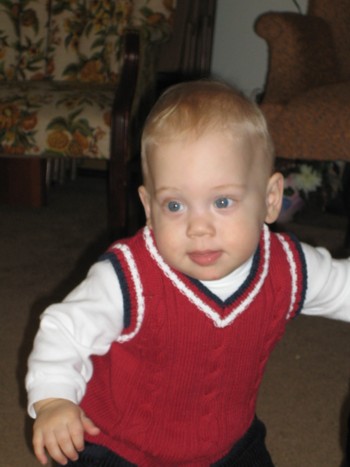 All dressed up at Grandmas and running not to miss anything!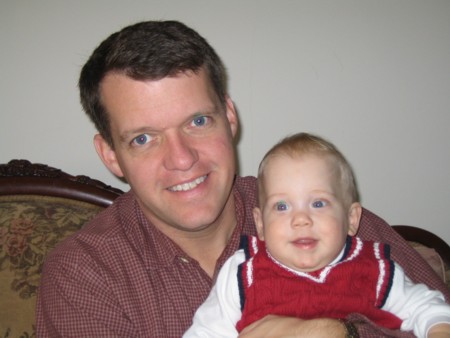 12-18-05 Daddy and Chase.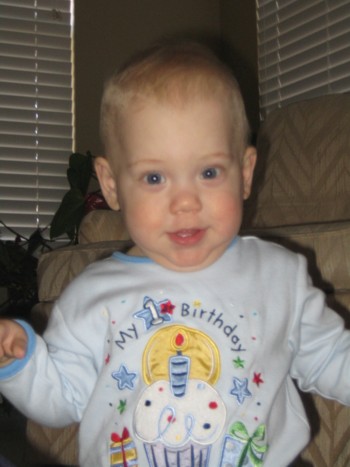 12-11-05 Chase on his FIRST BIRTHDAY!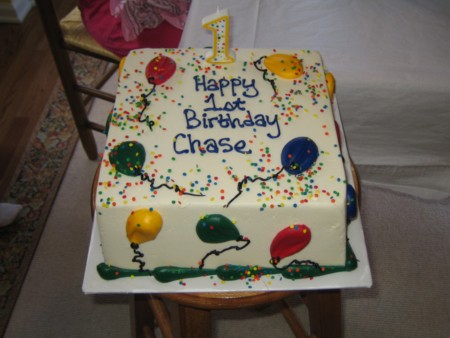 Chase's first birthday cake!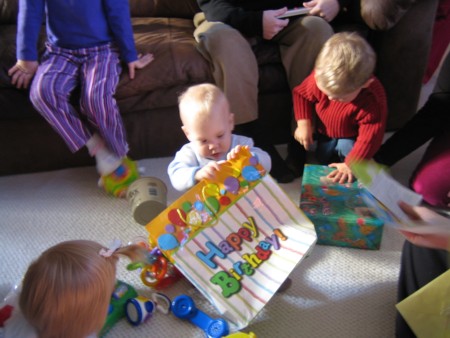 Chase was very uninterested in helping Mommy open gifts. He enjoyed the bags, bows, paper and boxes much more.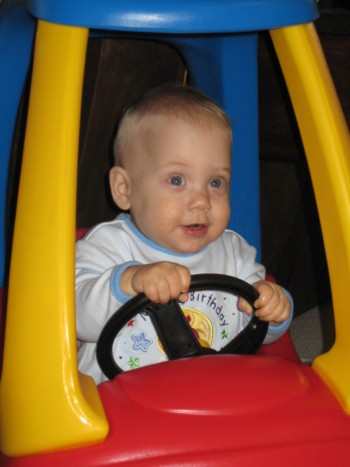 Chase loving his car that he got for his birthday from his cousins.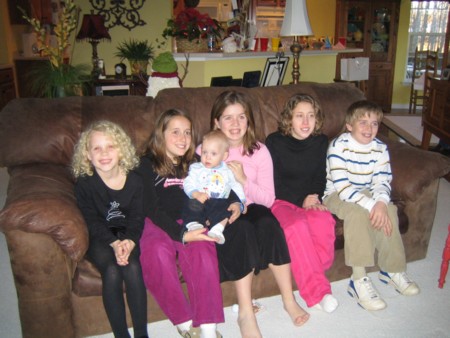 Chase hanging out with his Asheville Buddies... He was very happy that they came for his birthday party... It meant a lot to him and his Mommy and Daddy!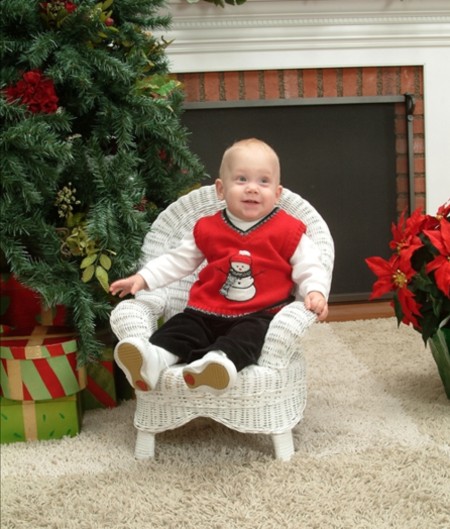 Christmas 2005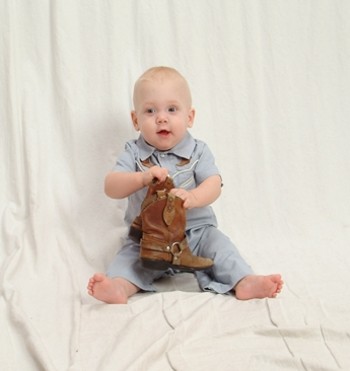 Chase with Daddy's boots. These were Daddy's when he was very little - he would never take these off... Per GeeGee, he slept in them!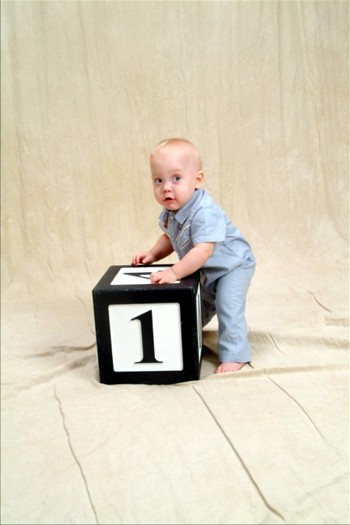 Chase looking like he is up to something... Probably because he always is!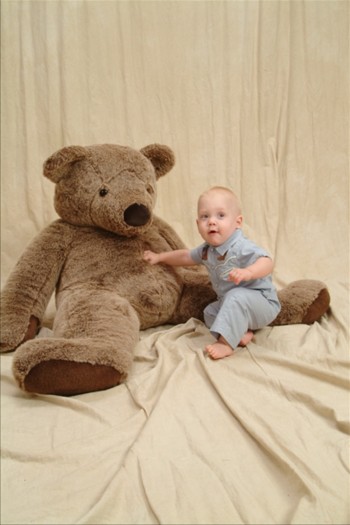 Chase hanging with the BIG bear!